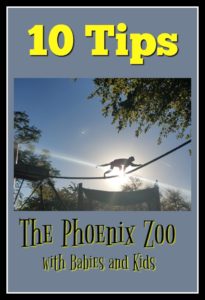 It has become a Spring Break tradition for my friends and I to take our kids to The Phoenix Zoo.  We are a group of four women; four girls ages 10, 9, 6 and 4; three boys all under one year old and usually my husband comes along as well.  We have all know each other for a very long time and don't get to visit with each other often since becoming parents and we all also live on separate parts of the Valley.  The Zoo Day is a day that I look forward to, we always have a great time even though doing anything with that many kids at varying ages is anything but easy.  Below are some tips that I thought I would share for what I believe to be a great day at the zoo.
#1 LOOK FOR A DEAL-  I am obsessed with looking for deals, if there is a an admission fee, I am determined to get it discounted.  Always search Groupon, The Phoenix Zoo website, utility bills sometimes come with inserts that contain coupons for local attractions or events, so make sure to check those envelopes before throwing in the recycling bin.  Lastly check out a tourist info kiosk/stand, there are tons of local coupons located on those racks or shelves.  Tourism information kiosks can be found at the airport, hotels and even shopping malls.  There is currently a coupon on the back of the tourism brochure for $3 off adult admission and $2 off child admission for up to six people.  The Phoenix Zoo tickets are kind of pricey in my opinion ($24.95 for adults ages 14+ and $14.95 for children 3-13 years old).  So do yourself and your wallet a favor, pick up a coupon and save some money.  I should also say that The Phoenix Zoo does have annual memberships that you can purchase, I feel that if you know that you will attend the zoo at least three times in one calendar year you should totally invest in one of these memberships.
#2 PACK A COOLER- Once again… obsessed with saving some money… PACK A COOLER.  A full day of snacks, meals and beverages can add up QUICK.  The zoo is kind enough to allow outside food and drinks which is great.  Pack your cooler with tons of water, in this desert heat you seriously need tons of water when out all day.  The zoo charges $3.50 for a bottle of water; there are drinking fountains around so that is an option, but I personally like too have cool water ready whenever thirsty.  The food at the zoo can also be a bit pricey and the concession lines long.  If you bring in your own snacks you have the ability to eat whenever you want and with easy to carry snacks, you can continue exploring.  In my group there was always at least one hungry or thirsty kid; having the ability to snack and walk kept the group moving forward.  Also pack a lunch, there are several areas with shade and tables that make for a good break for the whole group that will recharge everyone's enthusiasm for the zoo.  Please make sure to properly throw away any garbage though… I absolutely hate seeing people's garbage littering the beautiful paths and habitats.
#3 SUN PROTECTION-  Sunscreen, sunscreen, sunscreen!  Apply it before entering the zoo, set an alarm on your phone or watch as a reminder to reapply.  While you are taking a break to apply sunscreen drink some water and take a bathroom break.  Wear a hat and sunglasses or carry an umbrella too.  Sunburns and heat exhaustion are not fun and can be very dangerous.  Nothing ruins a day quite like a terrible sunburn or a trip to the hospital with heat stroke.
#4 DRESS APPROPRIATELY- Comfortable walking shoes are important.  There are 2.5 miles of walking trails, but if you are anything like me and my group, you will walk at least double that with trips to the bathroom, looking for garbage cans and backtracking to see missed habitats.  Breathable clothing, shorts or active wear are most comfortable in this Arizona heat.  Pack a swimsuit and towel for the kiddos; there are two splash pads that each have a small changing area.
#5 SHOW UP EARLY- I feel like this is pretty much a given, showing up early is always a good thing to do.  The parking lots can fill up quick.  Also lines at the ticket sales stands can get long and I mean really LONNNGG! If you do so happen to find yourself at the end of a really long line, just to buy the tickets to get in, you can purchase tickets online using your smart phone and head on over to the entrance.  If you decide to buy tickets online instead of at the ticket office/counter, you will not be able to use those coupons I mentioned in my #1 tip.
#6 DO THE LESS SHADED TRAILS FIRST-  Upon entering The Phoenix Zoo if you head over to the left you will find two trails, the Arizona Trail and the Africa Trail.  I seriously recommend walking and exploring these trails first; they are sunny and best done earlier when the day is a little less hot.
#7 GO TO THE SPLASH PADS-  What better way to cool off after walking the sunny Arizona and Africa Trails than a trip to one or both of the splash pads.  Have your children throw on their swimsuits, reapply sunscreen, drink some water and splash around for a bit to re energize for the rest of the day at the zoo… after all, the kids still have the petting zoo to look forward to.
#8 LUNCH AT THE TREE HOUSE PLAY AREA-  One of my favorite places to eat lunch is at the tree house play area.  The play area is well shaded, next to the restrooms as well as the concession area (if purchasing any), and there are plenty of tables.  The kiddos can play after "refueling" while you relax in the shade under the huge eucalyptus trees… possibly while sipping a delicious iced coffee.
#9 DO THE SECOND HALF OF THE ZOO AFTER LUNCH-  If you started your day with the Africa and Arizona Trails, then did the splash pads and ate lunch at the tree house play area, you still have my favorite parts of the zoo left to visit.  Usually by this time of day the crowds have cleared leaving the Children's Trail and Tropics Trail pretty empty which makes it easier to get through the rest of the zoo fairly quickly.  You can enjoy shorter waits to enter the Petting Zoo in Harmony Farm as well as the Monkey Village.  You should also have no trouble finding your car when leaving seeing as the lot will be pretty empty.
#10 COME PREPARED-  When doing a day trip with babies and children preparation is key.  Below is a list of what we brought on our trip to The Phoenix Zoo that made the day easier for all of us.
Water (tons of it)
A Stroller or wagon– we were able to pack our cooler on the bottom of our baby's stroller.  If we had not brought our stroller we would have used our collapsible wagon to store everything and possibly tug an older kid around in.
Baby carrier– Three of us have babies under one year old and having the ability to baby wear when they were fussy; wanting to be out of the stroller; wanting to be up higher to look around or even just needing to push one of the older kids around that were feeling exhausted instead of the baby.  I recently purchased a Lillebaby Airflow carrier and absolutely love it; I will hopefully get around to doing a review on this carrier soon.
Hats for everyone– if hats aren't your thing, bring an umbrella for shade
Sunscreen
Cooler– packed with water, snacks and packed lunch
Swimsuits or extra change of clothes and possibly a towel
Binoculars– sometimes the animals are far towards the back of their habitats hiding out in the shade.  If you want to see some of animals in the larger habitats the binoculars are a huge help.
Chilly pad or something similar– Just wet them down and they become a cooling re-energizer on a brutally hot day.
First Aid Kit– I always carry a small kit in my diaper bag (my daughter and I are accident prone).
Backpack/Diaper bag– stocked with your usual all day outing baby supplies and plenty of wipes for easy cleaning and of course diaper changes.  My favorite diaper bag is the Ju-Ju-Be BFF convertible backpack, it is super comfy and fits so much.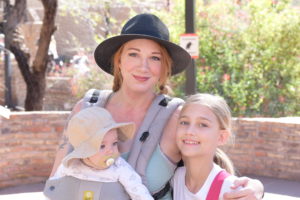 Follow me on Social Media