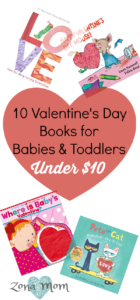 Valentine's Day is just days away!  This year I had big plans to make Valentine's Day special for my children but after a few weeks of dealing with the flu, I spaced it completely.  Now, Valentine's is just a few days away and store's Valentine's Day sections are lacking variety.  Fortunately, Amazon has once again saved the day and made me look like I have my $h!+ together.  I found TEN books ALL Amazon Prime eligible for under $10.00 that are perfect for babies and toddlers.  In fact most of these are closer to the $5.00 price point making them affordable as well.  What's better than spending some quality time reading a book to the little loves in your life on Valentines Day?!
This post contains affiliate links, which means that if you make a purchase using these links, at no additional cost to you, I may receive a commission. Read my full disclosures here.
This is my top pick and the one that I ordered for my little guy, he absolutely loves flap books.
This book comes with a bonus: Poster and Valentine's Day Cards!
I personally feel like books make the best gifts for little ones.  It is recommended to read to your baby/toddler for at least 20 minutes per day.  New books can help keep children interested in reading (new to them, used books are great too).
*Tip:  The book can double as a Valentine's Day card or you can pair it with a fun little toy or stuffed animal. 
I hope that you found this post helpful.  Have a wonderful Valentine's Day!
XOXO
-April aka Zona Mom
Follow me on Social Media