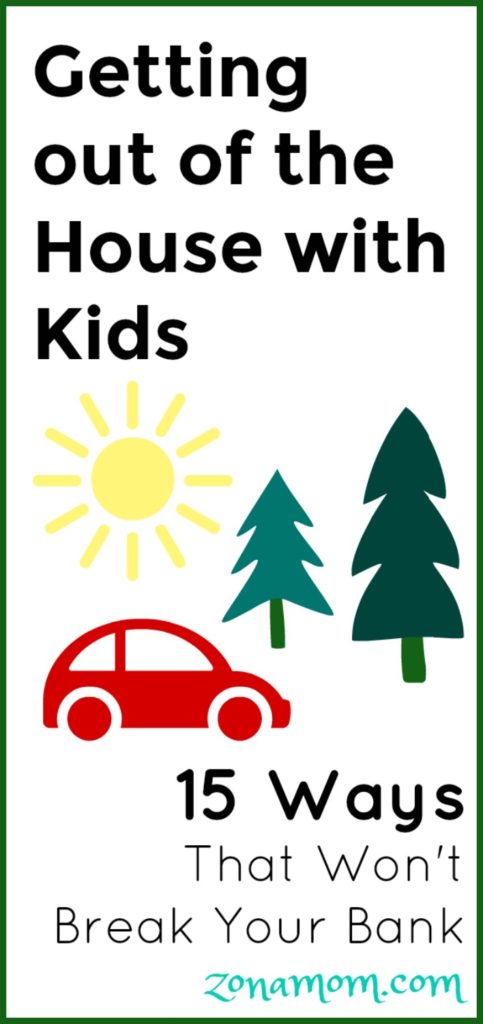 As a stay at home mom it can be hard to leave the house with children in tow.  I have been a stay at home mom for over five years now and have found that getting out of the house, even if just for a little bit, each day is important to keeping me sane.  I would find myself thinking of things that I needed to go out and buy.  Whether it was a trip to Target or to the mall I felt that I was spending too much money on places to go.  So, below I have listed 15 ways to get out of the house with children without breaking the bank.
15 Things To Do:
Parks– If the weather is permitting (it gets insanely hot here in Arizona and sometimes that just isn't an option).  Getting out and moving around, breathing fresh air and wearing your little one(s) out is great for both yours and your children's mind and body.
Public Library– Not only is this outing encouraging your children to read, but often times there are story times and free events for children at the library. Bonus… you can do this on rainy, hot or snowy days.
Mall Play Areas– A lot of malls have these.  They are great for socializing with other parents as well as getting the littles used to and comfortable with other kids.  It may take some self control to not shop or eat at the food court but this too is something you can do regardless of outdoor conditions.
Meet-up/Play dates– Social media has made it easier to meet people, you can join a mom group and enjoy hanging out with other stay at home moms and possibly even build lasting friendships.  I myself am socially awkward so this makes me a little anxious, but have done it all in the name of sanity.
Grocery Shopping–  I am a budget shopper, I hate spending more than I have to.  With this being said, I tend to grocery shop at several different stores.  I look at the circulars and find which stores have the best deals and make separate shopping lists.  By going to one or two of these stores on different days of the week, I get to save money and get out for a little bit.  Added bonus is that the shopping trips aren't too long for my son and he is far less likely to get antsy.
Annual Memberships / Passes–  There are so many great places to take children and the individual admissions can add up pretty quick.  If there is somewhere we have been wanting to go and know that it is a place we would like to visit more than once, we save up and buy an annual pass.  We have memberships to one of our local aquariums, the zoo and a science center.  When the weather is nice I like to go to the zoo just to walk and get some exercise and check out the animals and splash pad.  If we are looking for an indoor activity we can go to the science center or aquarium.  I purchased all of the memberships while there were promotions or Groupons so even then I didn't pay full price.
Hiking or walking trails–  Here in Arizona there are a bunch of places to hike or various kid friendly trails to walk.  One of my favorites is the Riparian Preserve in Gilbert, it is free and there are beautiful trails to explore and walk (with caution of course this is the desert and there can be snakes and scorpions).
Museums– They can be fun for all ages,  there are several museums in Arizona that have free entry always or others that offer it on certain days.  Here is a link to a list of museums in the Phoenix area that are free https://www.tripsavvy.com/free-museums-in-greater-phoenix-2681694.
Splash Pads– A great way to get out of the house with the kids during the summer months and cool off outdoors.  I like to keep a bag in the car with swimsuits, water shoes and sunscreen just in case we find ourselves near one.
Local Events Calendar– There is almost always something going on over the weekends here is Arizona.  Usually there is at least a few free activities, you can even pack your own drinks and snacks.
Geo-Caching–  There are a bunch of free apps for your phone that can make this a fun activity that you can do almost everywhere and anytime.
Rock Painting–  This fun new trend is a twofer… you get to do a fun and possibly even free craft project with your kids, then you get to place them for other people to find.  Its like hiding treasure just so that it can be found by someone else.
Camping– This is a much longer outing, but you can camp for just one night and camp-grounds are usually pretty inexpensive or sometimes even free.  Where I live in Phoenix there are tons of places to camp and some are only about two hours away.
Cabela's– I know this is a store and not an option for everyone.  We have one that is about a 40 minute drive from us.  But if we are looking for something free (aside from money spent of gas) Cabela's is a lot of fun for kids who are fascinated by animals.  Cabela's features huge aquariums and real (taxidermy) and artificial animals on display in realistic re-creations of their natural habitats.
Movies In The Park– There are a lot of cities and city parks that offer some sort of a movie in the park event.  There are a few places near me also once a month the Odysea Aquarium in Scottsdale has a free movie in the central outdoor pavilion.
So there you have it readers… these are some of my favorite and inexpensive activities to do with my children.  Whether it is just a trip to the store to pick-up bread or a full on camping trip, getting out of the house and away from the TV or computer is an absolute must to keep my sanity.  I would love to hear about your favorite places or things to do with your kids that don't cost a small fortune.
Follow me on Social Media