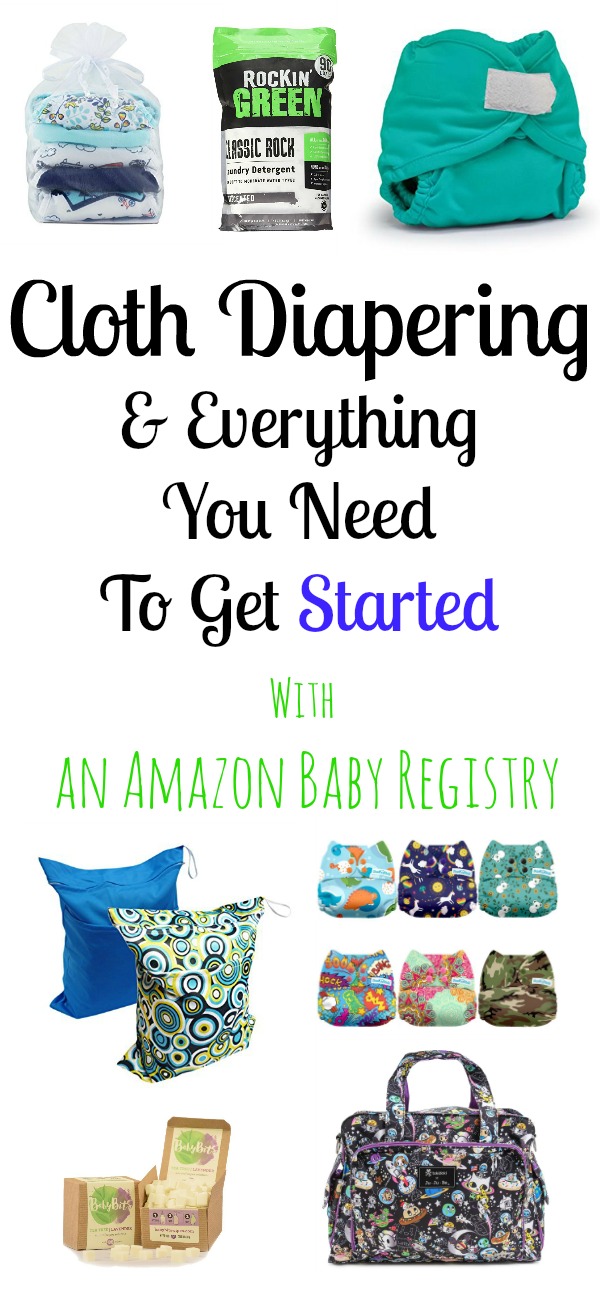 Hello Readers!  So, you are thinking about cloth diapering… THAT IS FANTASTIC! Cloth diapering is a great way to save money and the environment at the same time.  You are searching the web for the best products, everything you need and how to do it.  The search may be extremely time consuming, confusing and possibly even stressful.  I am here to help you.
First thing you should know is that there is no perfect way to cloth diaper.  The options are limitless as to style, price and combinations of products to yield your most desired results.  With that being said, this list is what I (if I had to start all over from the beginning) would purchase from Amazon.  I am only listing items available on Amazon due to their AMAZING registry completion discount.  If you are hearing about Amazon's Baby Registry for the first time let me tell you a bit about it…
Please note:  This blog contains affiliate links, which means that I may make a commission from purchases made using these links.
Amazon Baby Registry
 You can create a baby registry on Amazon HERE, the service is completely free.
When you set-up your registry on Amazon, it will walk you through the different categories of baby products to ensure that you have thought of everything you may need.  Once you have completed selecting items for your registry in each category, you will be eligible to receive a free Welcome Box.  You will be notified when you are able to order it which comes after at least $10 in items have been purchased off of your registry (once again it is FREE).  The Welcome Box is pretty neat, it is a surprise selection of full, travel and sample sized products for baby and parents-to-be.
Another MAJOR perk to creating your Baby Registry on Amazon is that you will receive a completion discount.  A message will appear at the top of your registry when your discount is available, 60 days prior to your child's due date according to your registry.  The message will also display the discount amount you are eligible for (10% or up to 15% as an Amazon Prime member).  You will have up until 60 days after your child's expected due date to redeem this discount.
…back to the part about cloth diapering…
There are tons of options and styles of diapers.  Pocket diaper, AIO (all-in-ones) and diaper covers are some of the more common styles.  There are pros and cons to all three, but I am glad that I had all three to try out.  You can read my post about cloth diapering a newborn here.
Below, I have compiled a list and links to products available on Amazon.  These are the items that, if I had to completely start over cloth diapering a newborn I would buy… and use my Prime Membership and Amazon Baby Registry "completion discount" to get the best deal possible.  You don't need to have an Amazon Prime account to create a baby registry or utilize the completion discount but it does give you an extra percentage off plus free two-day shipping.  If you are interested in trying out Amazon Prime, you can click the link HERE to learn more.
Cloth Diapering- Amazon Baby Registry  
CATEGORIZED AND IN ORDER OF IMPORTANCE
Laundering
---
Rockin' Green Detergent Powder-  I love this detergent and it works great even if you have hard water.  If you click HERE, you can see my cloth diaper was routine.
Wool Dryer Balls- These help reduce static and softness without using dryer sheets or fabric softener.
Folding Drying Rack-  You won't want to place anything with the PUL (moister proof barrier) into the dryer.  Plus placing a stained diaper in the sun works wonders!  If you have a clothes line that works too, but I like being able to relocate my diapers depending on where the sun is or if it gets windy being able to bring inside.
Diaper Sprayer- This is not totally necessary.  If your baby is on a diet of only breast milk, rinsing isn't necessary.  The poop is water soluble.  You will need to rinse poop diapers once the baby starts eating other foods or if they are formula fed.
Spray Pal-  This handy tool, allows you to clip the diaper in and spray it out into a toilet without spraying/splashing poo-water anywhere.  It then can be folded to store when not in use.
The Changing Station
---
Large Wet Bags- These are nice because you can just hang them on a hook or knob anywhere without needing a diaper pail.  There are other great reusable wet-bags that fit within a trash can also, but I feel these are more versatile and less expensive.
Reusable Cloth Wipes- If you are going cloth there is no reason to buy disposable wipes.  Cloth wipes work better, cost less, can be washed with the diapers.  These are actually washcloths but work great.  48 wipes/washcloths (2 packs) should get you through at least three days of diaper changes.  You can also always save more money and make your own cloth wipes.
Peri Bottles-  I like using these to keep a wipes solution in and then just squirt onto the dry cloth wipes as i need them.  This is a pack of three.  I keep two at the changing station and another in my diaper bag.
Wipes Solution- If you want to moisten the wipes with more than just water this is a great natural option.  This makes 1000 natural wipes, I am guessing more.  Another alternative to purchasing this product it to add a little baby soap to water in one bottle, and then keep the second peri-bottle filled with just water for a rinse wipe after the soapy wipe.
Cloth Diapers
---
Cotton Prefold Size 1/Newborn-  I would buy more of these than any other diaper or insert.  You can use them with covers and as inserts for pocket diapers.  If you are using them as inserts or "pad folding" them in covers they will work well past the newborn phase.  My son who is now 15 months is still using this size inside of a diaper cover.  Purchasing six of these six packets should be enough for at least three days of diapering before laundering.
Snappi Fasteners (5 pack)- These hold the cotton prefold closed using various folding/wrapping methods.  They really are just good to have on hand.
Kanga Care Newborn Diaper Covers- These can be reused a few times after being urinated in.  Just remove insert or prefold, wipe down inside of cover and use again then wash with diaper laundry.  You cannot/should not reuse the covers after being pooped in (you must launder before using again).  I liked the Rumparoo Newborn Covers best when my son was brand new.
Thirsties Duo Wrap Size One-  I liked these a lot more once my son was a couple of weeks old.  They fit him better and he remained in that size for a long time before having to move up.  This five pack was enough for me, but having more couldn't hurt.
One Size Cloth Pocket Diapers- This set is by Mama Koala and comes with six microfiber inserts, it is very affordable and you could buy more but I recommend trying out before buying too many, they may not fit your baby the same way they fit mine.
Hemp/Organic Cotton Insert-  The inserts work wonders for heavy wetters or overnight diapering.  I would buy one pack of 12 inserts.  These can be wrapped with a cotton prefold and put in a diaper cover or can be used inside the pocket diapers.
One Size 3-layer Microfiber Inserts- Having extra microfiber inserts is never a bad idea.  You can add an extra insert in your pocket diapers or wrap them with a prefold for inside a diaper cover for super absorbency.  I would buy two six packs for a total of 12.
Diaper Bag
---
Wet/Dry Bags- I recommend having a total of four, this 2 pack is a great price, so I would order two of these.  Having a wet/dry bag makes it easy to keep a couple extra diapers, wipes and a peri-bottle with solution in the front "dry" pocket then soiled items in the "wet" compartment.
A GREAT Diaper Bag- I recommend a Ju Ju Be.  There are a lot of options and different price points about $30-$200.  I have a BFF convertible backpack and love it, there are a lot of pockets for organization, it is really comfortable.  Best feature of all is that it is machine washable and comes with a warranty when purchased from Amazon.
In conclusion…
I hope that you have found this list of, what I consider everything needed to get started cloth diapering useful.  Like I said earlier, their are many different ways to cloth diaper and many budgets for cloth diapering.  This is what I consider to be a fairly average cost way of diapering.  This registry list does have some frivolous items that are not essential but make the process of cloth diapering a lot easier.  If you have any questions or recommendations I would love to hear from you in the comments section below.
Thanks for reading!!!
-April J.
Follow me on Social Media