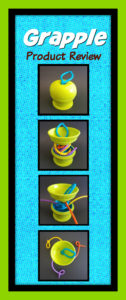 I must first state that I had not heard of this baby gadget until I participated in The Great Cloth Diaper Change 2017.  I was lucky enough to have had my name drawn in a raffle for this cool little invention.  I immediately knew where this was going to be kept, it has an awesome hook/ring in the shape of a leaf that makes it super duper easy to attach to a diaper bag.  I think it looks so cute too!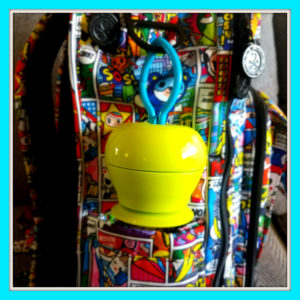 My first thought with the Grapple is that at least I get to try this out for free, because honestly this is not the sort of thing I would spend my money on.  I did not expect it to work well (like most other suction toys for high chairs) but wow, I was wrong.  The suction is very strong, so strong that sometimes when I set my diaper bag on my wood dining room table it gets stuck.  When it is stuck to the tray of my baby's high chair it doesn't budge for him, he can't pull it off himself, SCORE!  I no longer have to play the "he drops it I pick it up" game over and over again.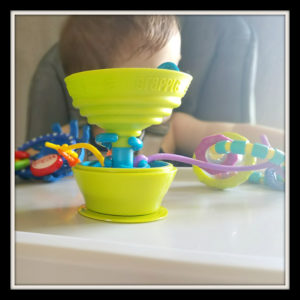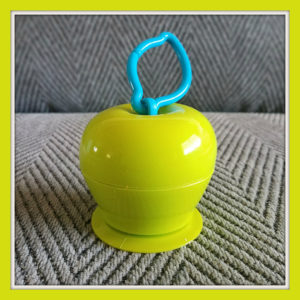 Product Features
The Grapple comes in two different colors that I have seen, red and green.  It has three cords that can loop around toys, sippy cups with handles, snack cups with handles, etc.  This product is made of soft food grade silicone which is safe for babies to chew on and does not contain BPA, Phthalate or PVC.  The cords twist up around the "core" and the top of the Grapple flips up to reveal the toy attachment cords and down to enclose the cords and look just like a cute little apple perfect for travel.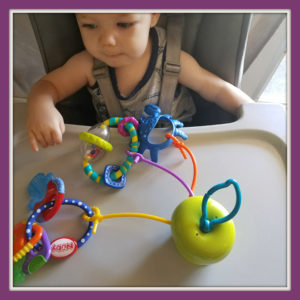 So, I have concluded that this gadget is definitely worth the purchase.  I have been so happy to have it in my diaper bag preparedness arsenal.  Going out to eat with Jasper has been made so much easier, I can enjoy a meal without having to continuously pick up toys from the dirty floor.  I love the Grapple so much that I actually bought a second one for a friend whom is expecting her first baby.  The Grapple can be purchased at various baby stores, I purchased a Grapple from Amazon for $19.99.
Thanks for reading!
Follow me on Social Media