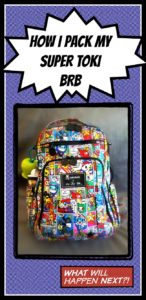 Let me first say that I LOVE LOVE LOVE Ju Ju Be diaper bags.  They are awesome for so many reasons but my favorite features are that they are machine washable, have an anti-microbial lining fabric, the zippers are fantastic, memory foam change pads and shoulder straps and they have so many easy to organize pockets… did I mention the awesome print designs.  Seriously, before I actually bought one and tried it out I thought the price point on these bags were ridiculous, but I discovered that you really do get what you pay for from Ju-Ju-Be.  Anyhow I cloth diaper so I feel that having a good/well organized diaper bag is key to being successful while cloth diapering out and about.  I have taken some pics of what I have in what pockets of the Ju Ju Be Be Right Back (BRB) and how I pack it up for while I am out running errands or just out of the house for a few hours.  I do pack a little differently depending on the outing and time expected out but this is just for a few hours and what I always have in my bag.

The Front Flap Pocket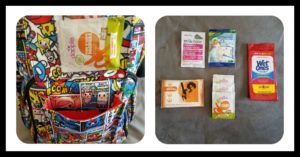 I usually keep a pack of Wet Ones in case I need to wipe down a shopping cart, table top or high chair, pack of tissue, some multi purpose dry wipes and a Milk Flow packet.  I also keep a few packets of Dapple Pacifier Wipes in the picture pouch.
The "Mommy Pocket"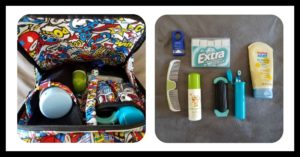 This pocket I like to use as kind of a family needs pocket with items that I may need to grab quickly for myself, baby, 10 year old daughter or husband.
Baby comb
Fold up brush
Hand sanitizer
Wisps (mini toothbrush/toothpick)
Chewing gum
Eczema cream
Mini lantern/flashlight
The Electronics Pocket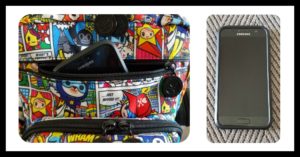 The cellphone pocket is huge and can fit larger phones, it fits my Samsung Galaxy S7 with plenty of room to spare.
The Main Pocket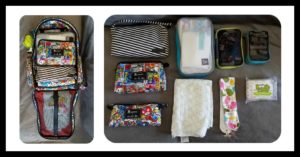 I first want to say that I really like how this pocket opens all the way and the bag lays flat, it makes packing so easy.  Also, I found that with the BRB style having pouches and organization pieces is a must.  There is a zippered mesh pocket on the front of the main pocket, an elastic mesh pocket on the lower back side and a double elastic at the top of the pocket.  I use a Ju-Ju-Be Be Quick, Ju-Ju-Be Be Set (all three of the pieces in the set),  and a few packing cubes by Travelon.
Travelon Packing Cube (small set piece) – For Cloth Diapering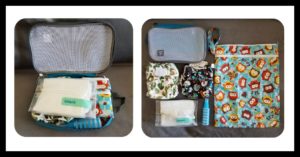 Buti Pod with cloth wipes inside
Wet/Dry bag
2 One-size cloth diapers (Thirsties AIO and KangaCare AIO pocket pictured)
Mini Spray Bottle filled with water and a few drops of baby wash
Travelon Mini Packing Cube (medium in the mini set) – For Eating Needs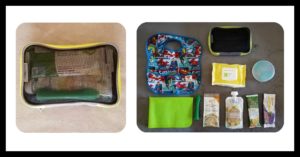 Travelon Mini Packing Cube (smallest in the mini set) – First Aid Kit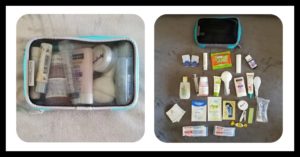 I like to be ready for almost anything and all of this stuff fits great in such a small pouch.
Extra pair of contacts- for me
Alieve
Boogie Wipe
Lip Balm
Soothe Drops
Baby Wash
Baby Motrin & syringe
Baby lotion
Suction bulb
Baby tooth/gum brush
Sunscreen bar
Teething gel
Baby nail clippers & adult nail clippers
Alcohol wipes
Bandaids
Trial ointments
Travel Zantac
Tub of Aquaphor ointment
Baby emery boards
Cotton swaps
Cough drop
Ju-Ju-Be Be Quick– Back-up Disposable Diapers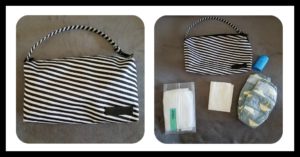 Sometimes we use disposable diapers while we are out, if Jasper has a rash or upset stomach or even if we are driving somewhere that is far and not a lot of opportunity to change a diaper quickly.  I like to keep some handy.
2-3 Honest Company Diapers size 3
Buti Pod filled with disposable wipes
Disposable change pad
Arm & Hammer waste bags
Ju-Ju-Be Small and Large Set Pieces– My personal items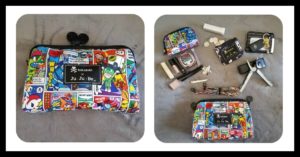 If I am going somewhere without baby Jasper I can just pull this out of the diaper bag and be good to go with all of the items that I need.
Small set piece containing various touch-up make-up, hair clips and tweezers
Ju-Ju-Be Coin purse in Kings Court print (LOVE IT)
Small wallet
Long JJB Set piece strap
Small charging cell pack
Ju-Ju-Be Medium Set Piece– Extra Clothing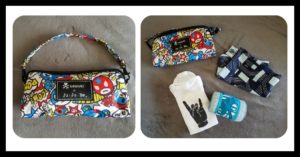 One of those "just in case" items, it seems that the really messy diapers always happen when I am on my way to the grocery store and I have to do a serious baby clean up in the parking lot out of the back of my car before heading in to shop.  The pajamas come in handy when out later in the day or at someone else's house after bedtime.
Onesie
Outfit/Pajama Roll with socks (how-to pics below)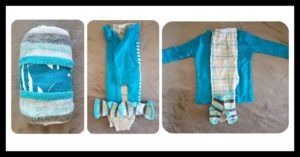 Zippered Front Mesh Pocket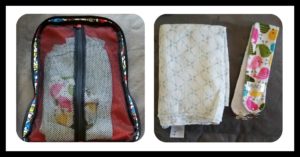 This is where I like to keep my breastfeeding cover-up/baby swaddle, it is easy to grab quickly when Jasper is "hangry" or sleepy.
Side Bottle Pocket and D-Ring Hardware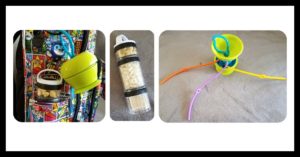 Grapple– This suction toy tether has super suction it works great on a high chair tray or flat restaurant table and keeps all of baby's toys from falling on the floor.
Go Stak Container– I usually have snack puffs, yogurt melts and dry baby oatmeal packed in this.  It fits perfectly in the side bottle pocket.
Ju-Ju-Be Paci Pod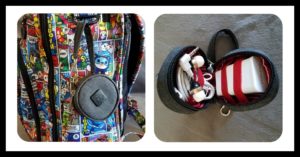 I like to keep these items in my Ju-Ju-Be Paci pod.  The elastics on each side hold everything in place.  The paci pod strap connects and disconnects easily and is easy to attach to my jogging stroller for a walk or jog around the neighborhood.
Samsung phone charger and cord
Earbuds
"Hidden" Top Pocket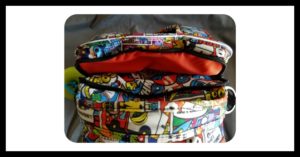 I like to keep this pocket empty and just use it for whatever comes up.  If I am going grocery shopping I will throw my reusable shopping bags that fold up small.  Or if my husband is out with me he can use it to put his sunglasses and wallet in if need be.  Maybe we are going to the splash pad or park and I need to bring along Jasper's hat, swim diaper and trunks.  I don't know what the day will bring so having an empty space to throw something into makes getting out the door so much easier for me.
Side Changing Pad Pocket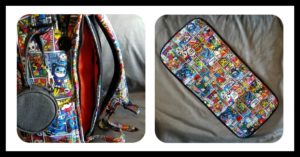 I do not use the change pad that came with this bag, I am keeping it in unused condition to either have a custom piece made to match my bag or just in case I decide to resell.  I do however use the change pad that came in my JJB BFF or a disposable change pad that I keep with the diapers. This pocket is great for me to throw my notebook, magazine or tablet in if we are going on a trip.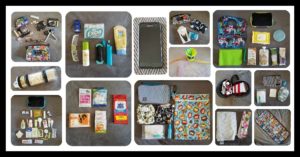 So there you have it, all of the usual contents of my Ju-Ju-Be BRB (Be Right Back) for an average day of running errands or visiting friends or family.
Follow me on Social Media