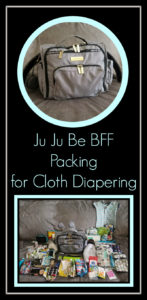 Ah the BFF diaper bag, my first JuJuBe love.  I purchased this bag when my son was just 6 weeks old and found myself panicking over my first outing alone with him.  My fast approaching 6 week postpartum check-up had me stressing.  My husband was back on the road for work and I had to take my little guy with me to my appointment.  I know this sounds stupid but I was worried about being able to open the door to the doctors office (it was an extremely heavy and hard to open door).  How was I going to manage carrying a diaper bag, purse, an infant in a car seat and opening this dreaded door?!  I was also desperate for a different diaper bag that could fit everything I needed for cloth diapering a newborn.  I was lucky enough to find the BFF convertible backpack on Amazon for a great price (I think it was a daily deal at $90).  It was also eligible for FREE same day shipping, even better!  When it arrived I was skeptical that it would hold everything, I carefully packed it (just in case I decided it wasn't going to work out).  Amazingly enough everything fit wonderfully and there was even room to spare.  I tried it on… "aaaahhhh" (that is supposed to sound like a choir) it was felt like the bag was meant for me.  The BFF fit comfortably and the backpack straps felt like pillows resting on my shoulders.  The straps are memory foam.  I was keeping this baby… snip, snip off with the tags and peeling all of the plastic off of the hardware.
Here I am, nine months later… still loving my BFF as well as my other JuJuBe "pretties".  Below are descriptions followed by photos of what I pack in each pocket.
All Sides
The front features a zippered "Mommy" pocket as well as a zippered Tech pocket.
Each side has a "Thinsulated" bottle pocket.
The back has a large thin pocket that contains a memory foam change pad.
There are D-rings that allow you to chose to use a messenger strap and/or backpack straps.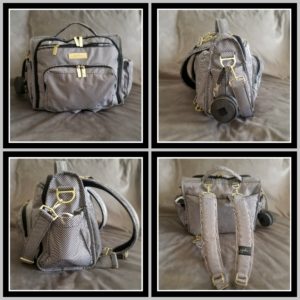 The Mommy Pocket
This pocket contains smaller interior pockets perfect for organizing your mommy essentials.  There is a pocket designed to hold your sunglasses, one small zippered pocket and two other pockets as well as a key leash.  In this pocket I like to keep…
A large pack of gum, mostly for my husband and daughter.
Small JuJuBe set piece containing various make-up items, nail file and tweezers.
JuJuBe coin purse for coins or my nursing cover clips.
Small card wallet with car and house key attached.
Small flashlight/lantern attached to key leash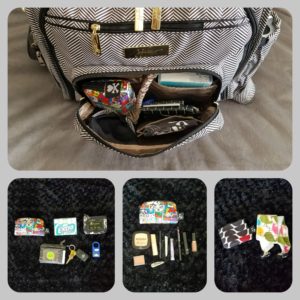 Tech Pocket
A pack of tissues or my cellphone if I am not wearing an outfit with pockets.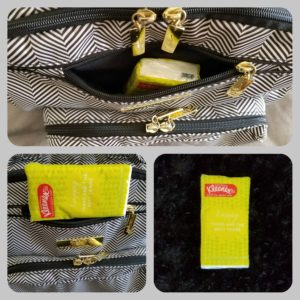 Front Photo Pockets
A JuJuBe coin purse containing my nursing cover clips.  The LatchOn strap with clips is amazing, I can use it with a receiving blanket for discrete breast feedings out and about.
Packet of Milk Flow by Up Spring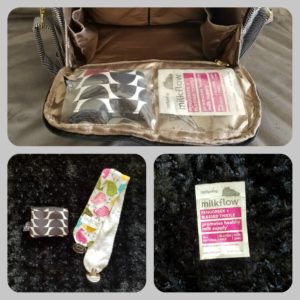 Back Left Zippered Pocket
Baby Comb (for baby)
Folding hairbrush (for 10 year old and myself, some days are rough and I don't even realize that I left the house without even brushing my hair).
Back Right Zippered Pocket
Breast pads and other possible lady toiletries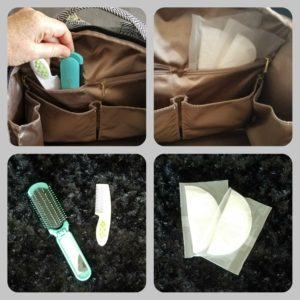 Inner Front Zippered Pocket
I usually like to keep flat items like various wipe packets and hand sanitizer (not pictured, it went missing somehow).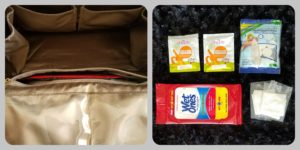 Right Side Pocket
I keep my first aid kit in this pocket, it is all stored and fits snug in a small Travelon packing cube.  It seriously has just about anything I could think of that we may need while running errands or visiting with friends or family.  I like to be prepared and I know that the one time I don't bring it with me I surely am going to need something out of it.  There is also a small container with Wisps in it (mini disposable toothbrushes) sometimes my daughter "forgets" to brush her teeth, so having these little babies at hand helps out a ton.
In the first aid kit…
Bandages and alcohol wipes
Nasal aspirator
Children's Motrin & syringe
Sunscreen stick
baby and adult nail clippers
nail files (Having a broken nail can seriously drive me nuts if it snags on everything)
Teething gel and baby toothbrush
Soothe drops
Aquaphor for diaper rash
Travel baby lotion
Cough drop
Advil and Ibuprofen
Boogie wipes
Extra set of contact lenses for myself (I am practically blind and cannot drive without both lenses in)
Travel baby wash and lotions
Zantac
Lipbalm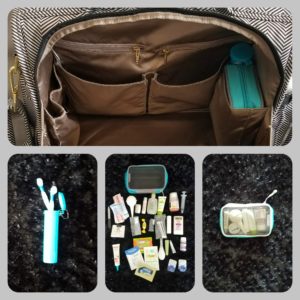 Right Side Back Pocket
Even though I cloth diaper; I do on occasion use disposable.  As much as I love cloth, disposable diapers can make for a much less stressful long distance drive and take up a lot less space than cloth.  I usually am okay for a few hours out running errands with only two cloth diapers but sometimes… shit happens (like literally and figuratively), so I keep a couple Honest Company Diapers with me at all times.
2-3 disposable Honest Company diapers
ButiPod wipes pouch containing Seventh Generation or Babyganics wipes.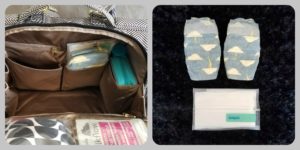 Left Side Back Pocket
The "Snack Pack" contains all of the essentials and a couple of non-essentials to feeding Jasper when away from home.  The Travelon cube that contains all of these items is the larger piece of the small Travelon set.
2 teething wafer snacks
1 baby food pouch
1 dry quinoa baby cereal packet
pack of hand and face wipes
silicon grippy mat
OlaSprout silicon spoon
Bumkins Bib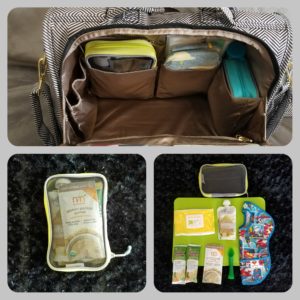 Left Side Pocket
Living in Arizona there is no shortage of sunny days, I try to always keep sunscreen and hat with me for the baby.  I keep my sunshine kit in an Ipsy bag that I received last summer.  If fits everything well and slides easily in and out of the BFF side pocket.
Babyganics sunscreen
Babyganics insect repellent
Lightweight baby hat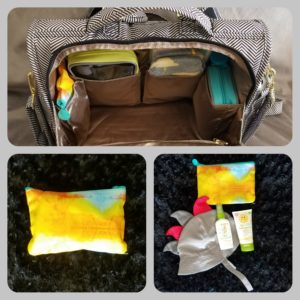 Very Bottom of the Main Pocket
My son's Aden and Anais silky muslin receiving blanket fits nicely folded up and takes up practically no space at all.  I like to keep this with me in case I need to nurse and cover up or if I need to cover his stroller for extra shade while napping.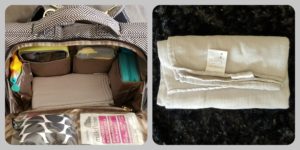 Stacked on the Blanket
This is a medium set piece that comes in the Ju-Ju-Be Be Set, it contains extra clothing.
Small wetbag for soiled clothing
Baby one piece jumper
Baby t-shirt and pants outfit
Pair of socks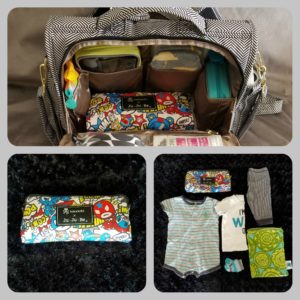 Stacked On Top of Everything
This packing cube is also Travelon, it is the small piece in the larger sized packing cube set.  I purchased both sizes of Travelon packing cube sets at TJ Maxx but they can also be found on Amazon here and here.  This packing cube contains my cloth diapering supplies…
2 cloth diapers in one size
1 wet/dry bag
ButiPod containing cloth wipes
Small spray bottle containing homemade wipe solution.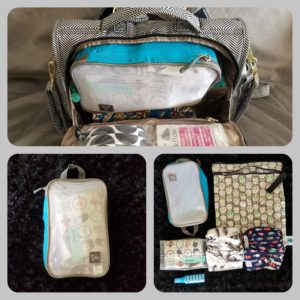 Thinsulated Side Bottle Pockets
I rarely keep bottles with me, since I do breastfeed pretty much on demand.  There have been some occasions that I have pumped knowing I may not be able to breastfeed, on those occasions I use one of the side bottle pockets.  But I do always carry a "snack tower" for Jasper in one of the bottle pockets.  The snacks I usually have are Happy Baby Puffs, oatmeal and yogurt melts.  If you are interested in this snack tower it is called GoStak (it is actually intended for shake mix and vitamins) you can find a link to the product on Amazon here.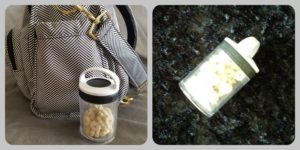 Ju Ju Be Paci Pod
There are so many different uses for a paci pod, the obvious use being for pacifiers but I usually use mine to store my earbuds and phone charger.  The paci pod can be attached/detached easily so switching bags or just clipping it to a stroller is a piece of cake.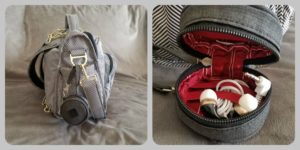 Change Pad Pocket
The title is pretty self explanitory, I keep the memort foam change pad that came with the BFF in it.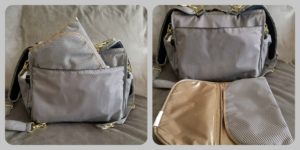 I hope you enjoyed this packing post and leave any comments or suggestions you may have for me. Thanks!
Follow me on Social Media