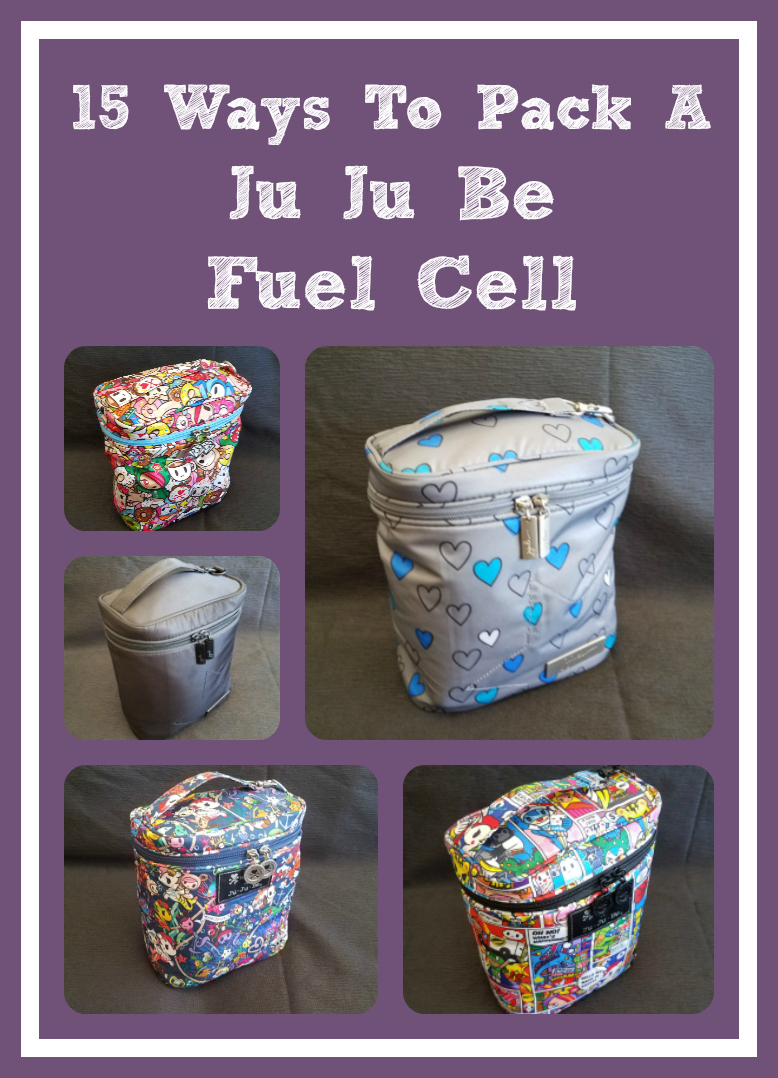 This week I am trying something a little different and doing a packing post but instead of it being just one way that I pack one bag, I am showing ALL of the different ways that I use my Ju Ju Be Fuel Cells.  For those of you that have no idea what a Fuel Cell is… it is basically an insulated lunch bag that is made by the fabulous diaper bag company Ju Ju Be (no, I do not get paid or compensated to tell the world how much I love their brand, I just really do like the products that they make).  Anyhow these fuel cells are awesome and so incredibly versatile.  You can use them for so many different purposes and this is exactly why I have decided to make this my favorite Ju Ju Be accessory.  Below I will show 15 different ways to use and pack a fuel cell.  This did take quite a long time for me to put together, so, I hope that you enjoy or at the very least find it useful.
Also, I have included product links for some of my favorite Amazon finds below some of the packing/uses.  If you do make a purchase using one of these affiliate links, I may receive a small commission from Amazon.
1. Snacks/Lunch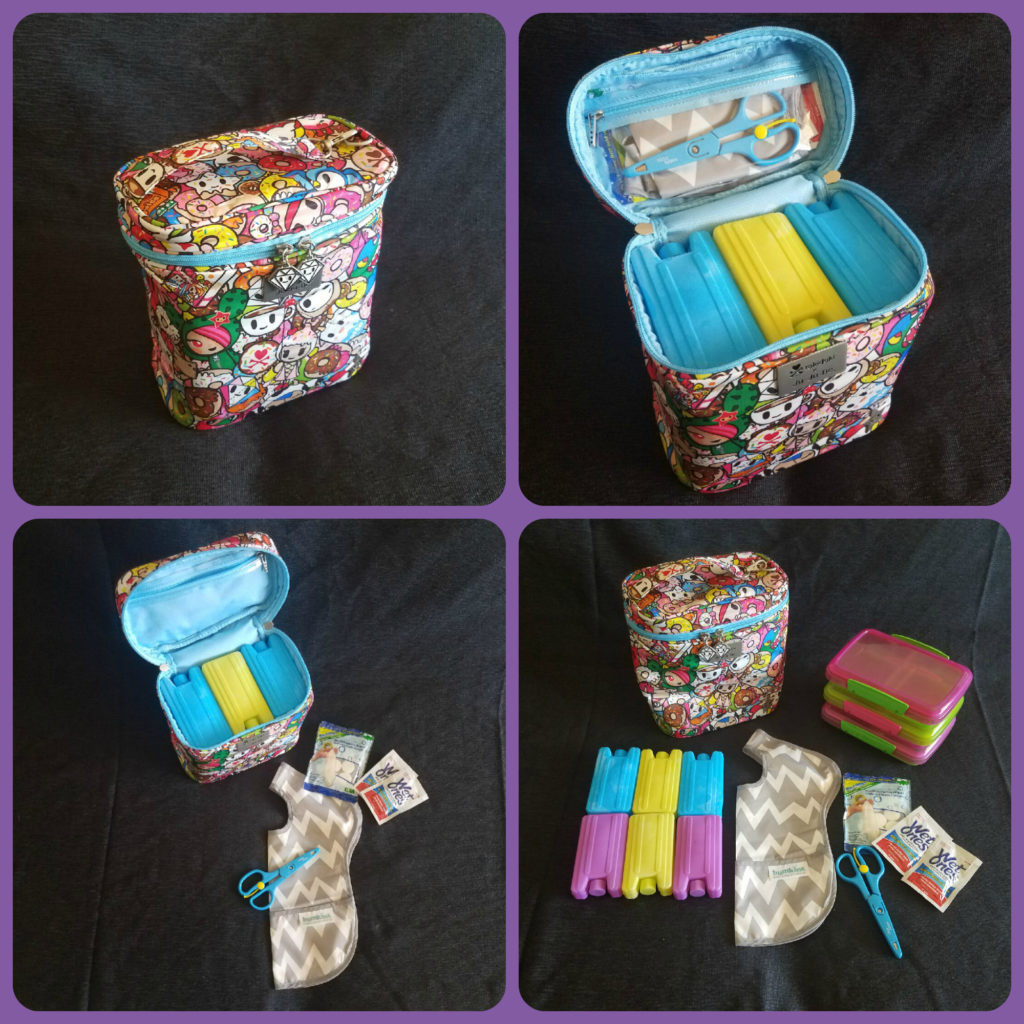 The Ju Ju Be Fuel Cell is an insulated bag perfect for keeping things cooler longer.  In the top zipper pocket I keep a pair of food scissors for cutting food for my son while we are out, they are pretty awesome and even have a little ruler on the side for measuring safe bite sizes.  There is also always a bib, Wet Ones wipes and some Wysi Wipes multi-purpose cloths (they are fun to drop in a glass of water).  I like to use mini ice packs like these found on Amazon, they fit nice and snug three across.  I put one row of three on the very bottom and another layer of three on the top of my Sistema 2-compartment snack bento boxes, I can fit up to four of these stacked up inside but I prefer to just stack three if I am using two layers of ice packs.  I will usually pack the bento boxes with some cheese slices, hummus and carrots, or apple slices and peanut butter.
Amazon product links
Ice Packs click here, Sistema bento boxes click here, food scissors click here, Wysi Wipes click here.
2. Diapering Kit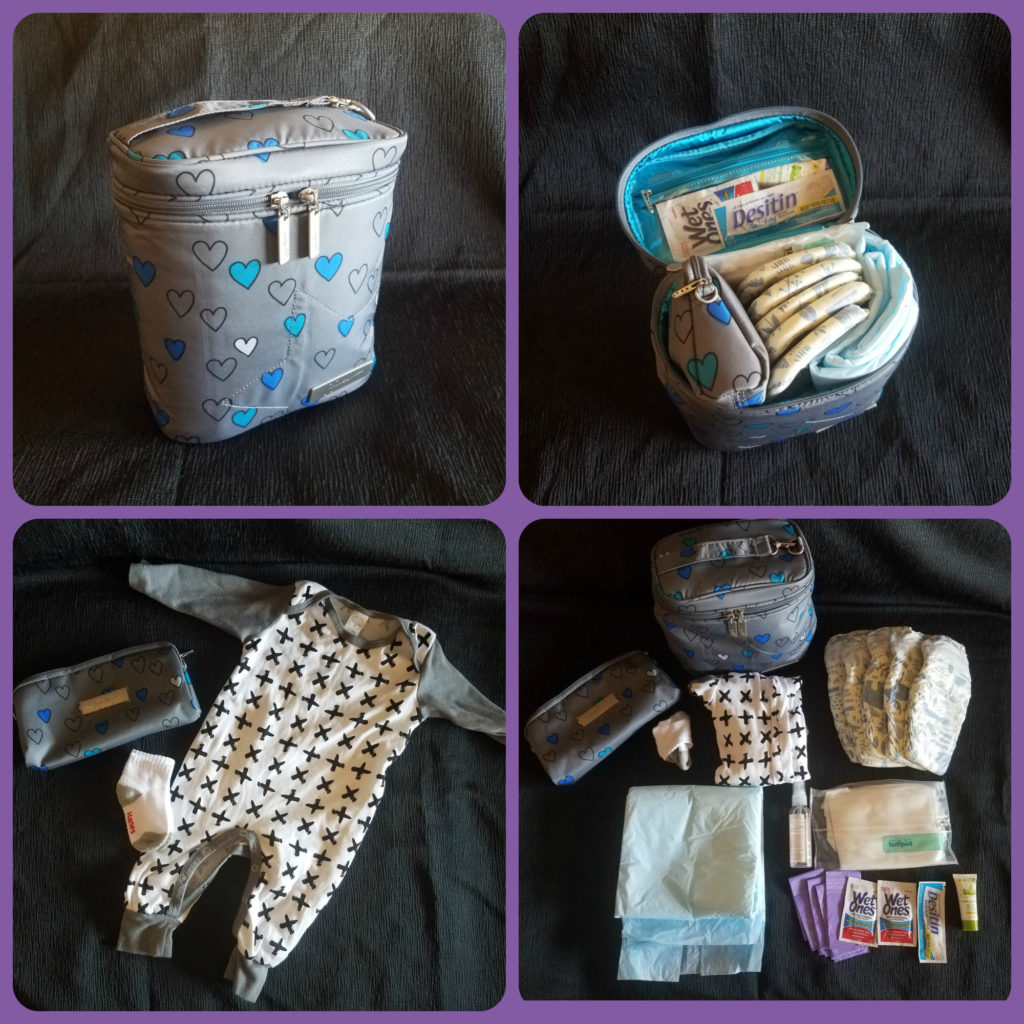 If you are out running errands or dropping baby off at the grandparents, having an easily accessible diapering kit can make diaper and outfit changes easier.  I keep a spare change of clothes in a Ju Ju Be medium set piece that way I can easily switch between bags.  In the top zippered pocket inside the fuel cell there is a couple of single Wet Ones, some diaper waste bags, a sample of Desitin cream, and a small tube of Babyganics lotion.  In the main compartment I keep a disposable changing pad (it is actually an incontinence pad, I got these for when I was pregnant in case my water broke in bed or in the car), a Butipod wipe pouch, four to five disposable diapers and an Honest Co. hand sanitizer.  If I am at the zoo or the aquarium it is easy to just grab this fuel cell, clip it onto the stroller and go… no digging around in a bigger diaper bag when I need to do a quick diaper change.
Amazon links:
Incontinence pads click here, Butipod wipe pouch here, Ju Ju Be BeSet here.
3. Travel Toy/Book Carrier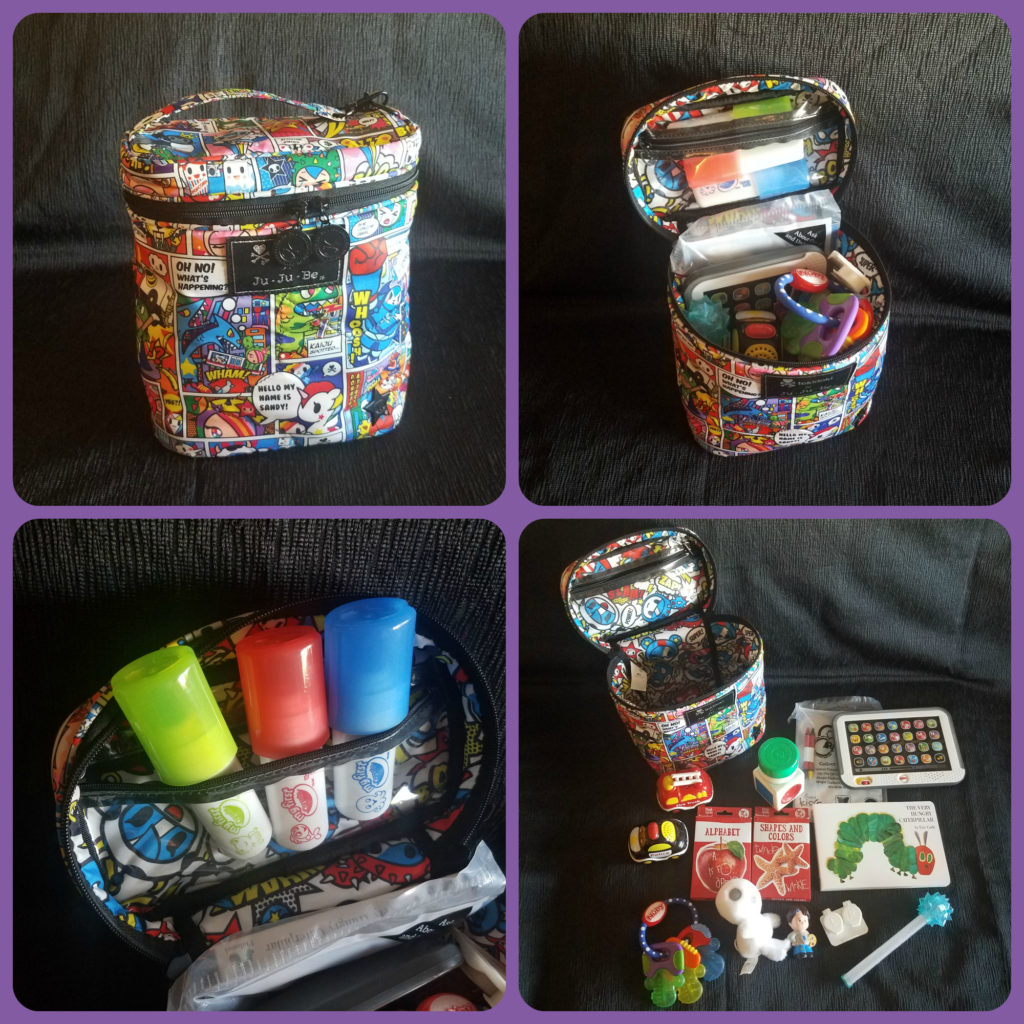 If you are going on a long road trip, flight or vacation it is nice to have some of your little one's favorite toys available all while limiting the amount of space the toys consume.  It is also nice just to keep in the car in case you need some distractions for you child.  My family and I took a 10 day long vacation from Arizona to New Jersey and New York this past summer and having some toys and books helped keep my son entertained while on the flight and away from his toys at home.  He also enjoys carrying around this fun little bag by the handle that is just his size.  The inside zipper pocket is perfect for markers/crayons or other small toys.
4. Crochet, Knitting or Knook Carrier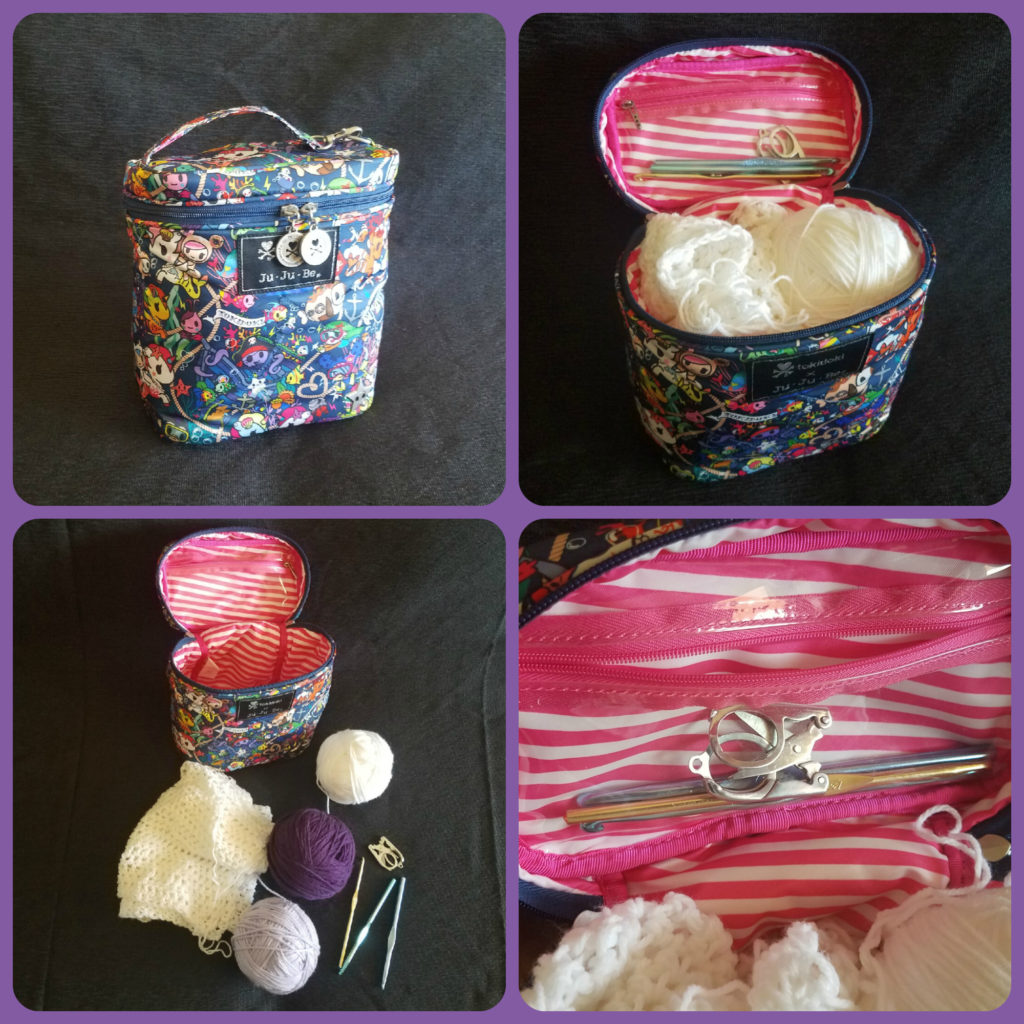 I know… this is awesome right?!  The fuel cell actually fits two full rolls of yarn or a bunch of smaller balls of yarn.  If you are using rolls and have the yarn pulled up through the center, you have super easy access to your yarn which makes your project even more portable.  I really enjoy crocheting on long road trips (when I am not driving obviously) and having a handy little carry all for my project is great.  I keep my crochet hooks and small folding scissors in the top zipper pocket for easy access and storage.
5. Cloth Diapering Kit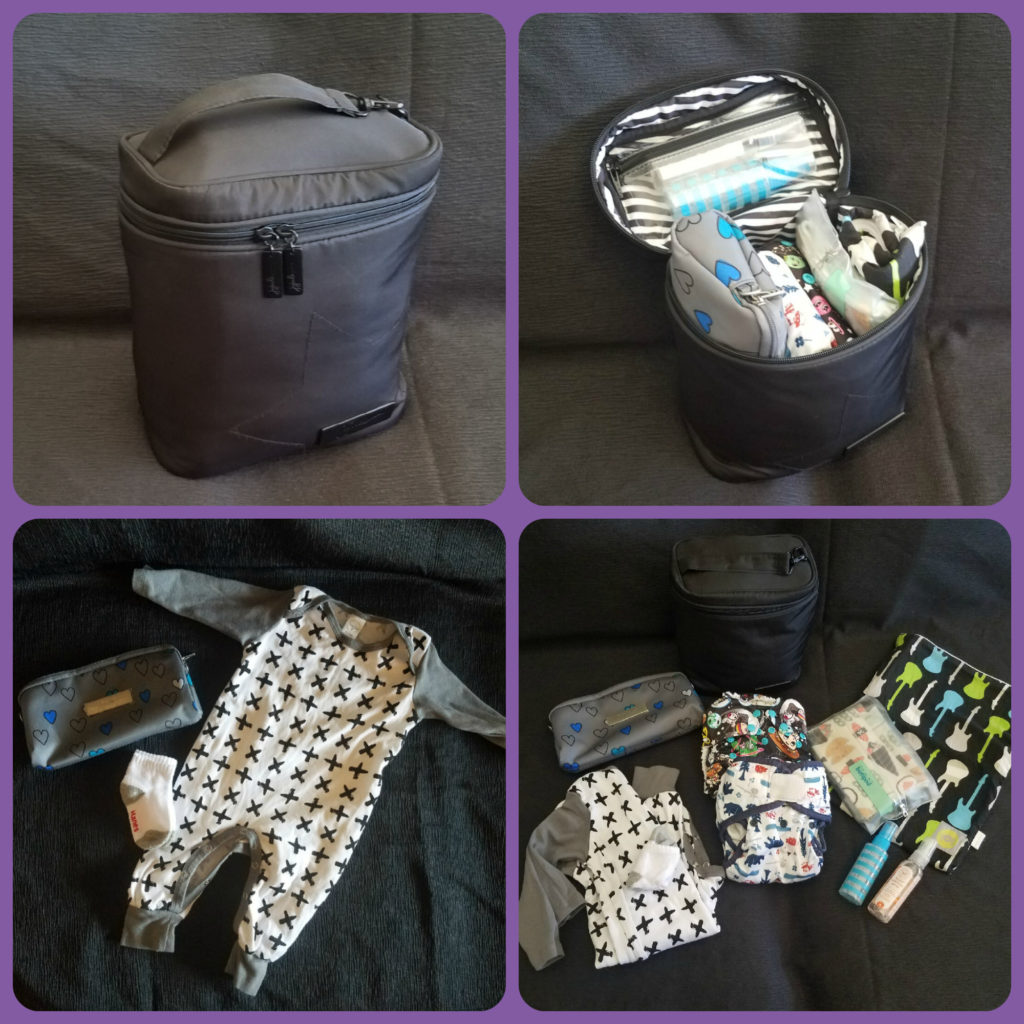 In my cloth diapering kit I have pretty much everything that I would need to change a cloth diaper while out of the house.  The top interior pocket holds my Honest Co. hand sanitizer spray and a small spray bottle with a soap solution for wetting my cloth wipes.  I can fit two one size all-in-one cloth diapers, my Itzy Ritzy wet bag, a Butipod containing my homemade flannel cloth wipes and my Ju Ju Be medium set piece in the Rad Hearts print containing a change of clothes.
6. Swim/Splash Pad Pack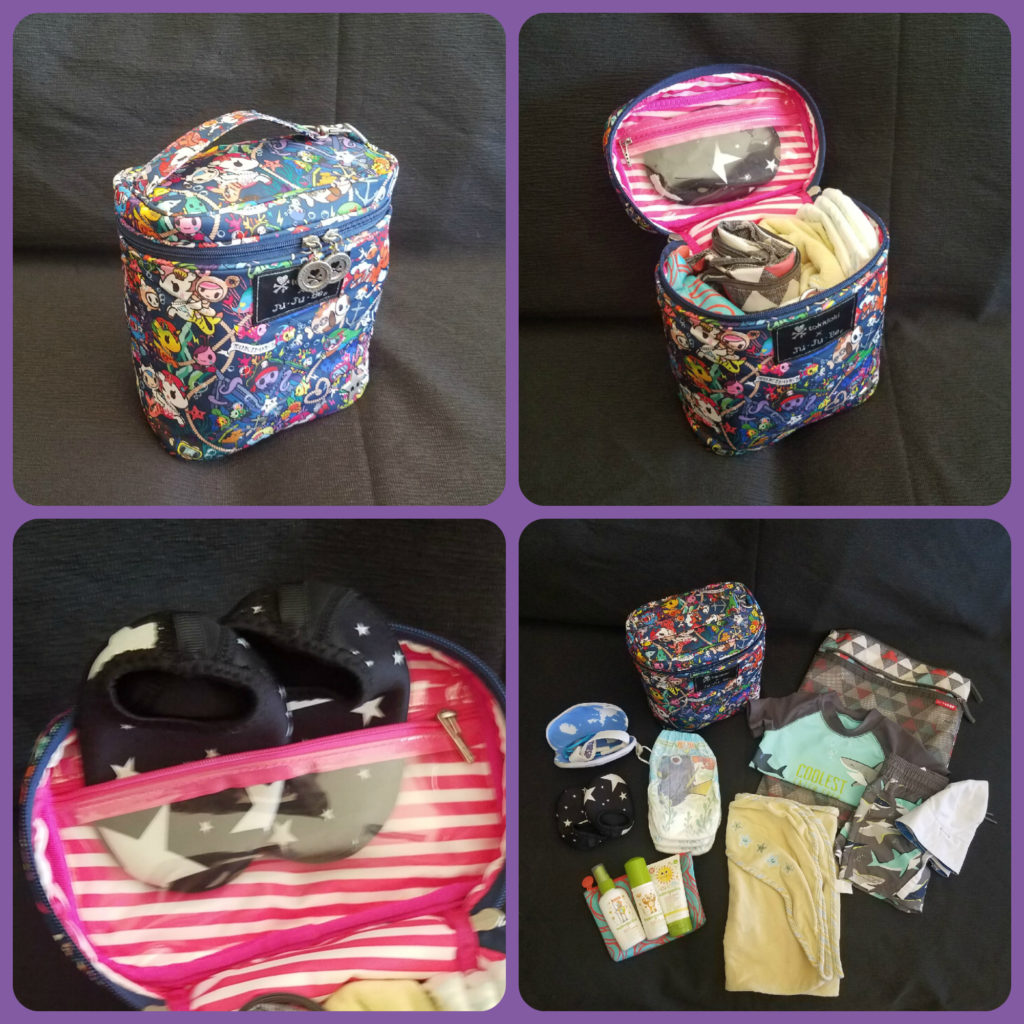 Here in Arizona during the summer months most of the outdoor activities that are fun for kids involve water.  Whether you are going to pool party or just heading out and may be near a splash pad, having a kit with some water essentials handy is key.  In this fuel cell I have a few swim diapers, baby's water shoes. Babyators sunglasses, swim suit, hat, towel, Babyganics insect repellent, sunscreen and hand sanitizer and lastly a wet bag for stowing all of that wet stuff.
7. Grocery Shopping Kit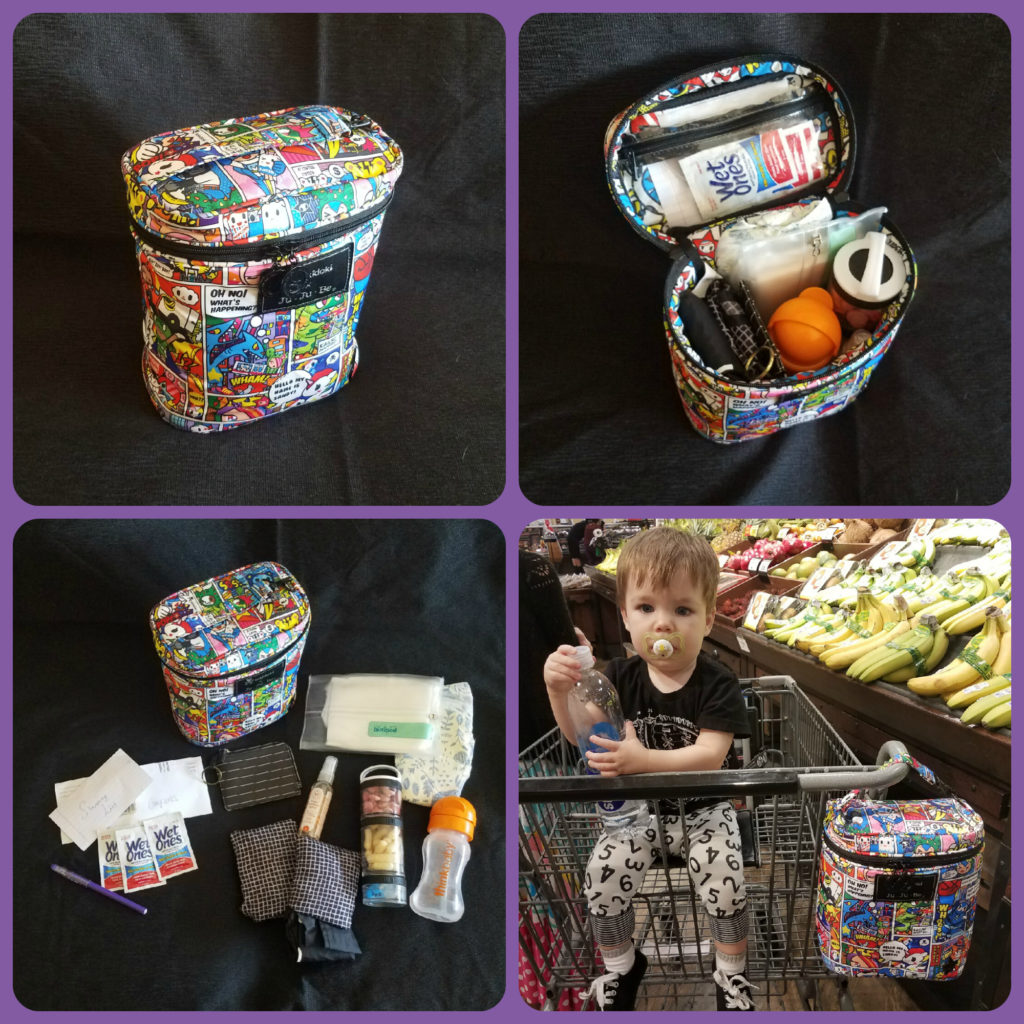 I like keeping it as simple as possible when bringing my kids to the store with me, and a fuel cell helps keep everything together and out of the way.  When my son is sitting in the shopping cart seat I like to attach the fuel cell to the carts handles that way my bag isn't taking up any space inside the cart and it is not crowding his space.  Inside my shopping kit fuel cell I have a Thinkbaby thinkster cup for my one year old, a snack tower (this one is the Blender Bottle GoStak), hand sanitizer, one diaper, baby wipes, slim wallet, and reusable shopping bags (I bought mine at Ikea and love how light they are and how small they fold).  In the zippered pocket I place my shopping list, pen, a few Wet Ones and my coupons in an envelope.
Amazon link:
Blender Bottle GoStak click here.
8. Canned Beer/Beverage Carrier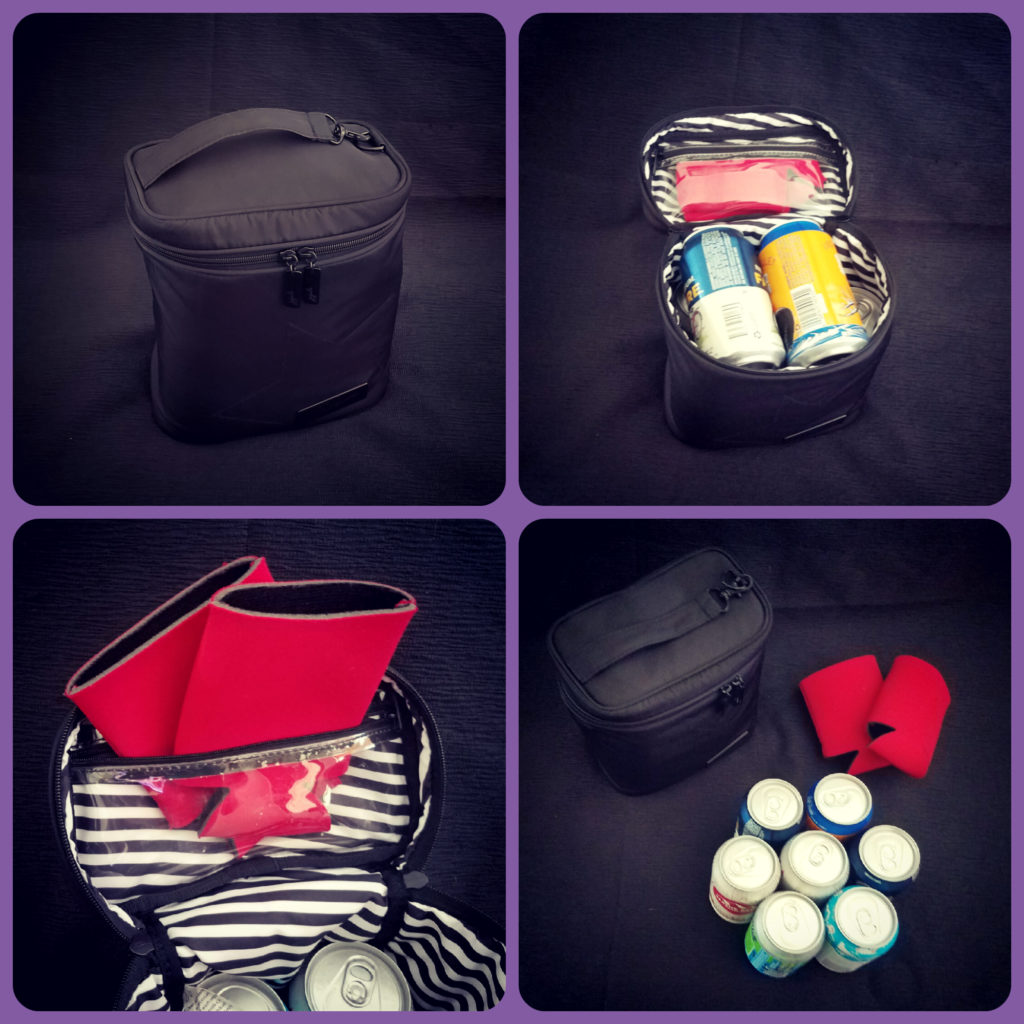 If you need to transport some of your favorite beverages to tailgating, a bbq or any other location and want to keep them cool or discretely to yourself, a fuel cell easily fit seven cans of beer, soda or any other canned beverage.  If you want to keep your beverages in the fuel cell extra cold you will probably need to substitute the two cans that rest on top with an ice pack or row of small ice packs.  You can even keep a couple of koozies in the top zipper pocket.
9. Baby Carrier Holder

I like to keep my Ergo Baby carrier in my car and having a pack that it fits into helps keep my car tidy.  The Ergo turns into a pile of straps on my floorboard in front of my son's car seat.  I prefer to keep that space fairly clear organized so that I have room for his diaper bag, toy pack and any other items he may need while we are away from home.  I also have a Lillebaby carrier that doesn't fit in the fuel cell.  Others say that the LIllebaby fits as long as you don't have the lumbar support in with it, but I have not been successful at cramming it in without fear of ruining my fuel cell.  Anyhow, I love having it easily accessible and compact, I can fit it into my Ju Ju Be BRB diaper bag or clip it onto my stroller for outings like the zoo or aquarium.
10. Stroller Catch-All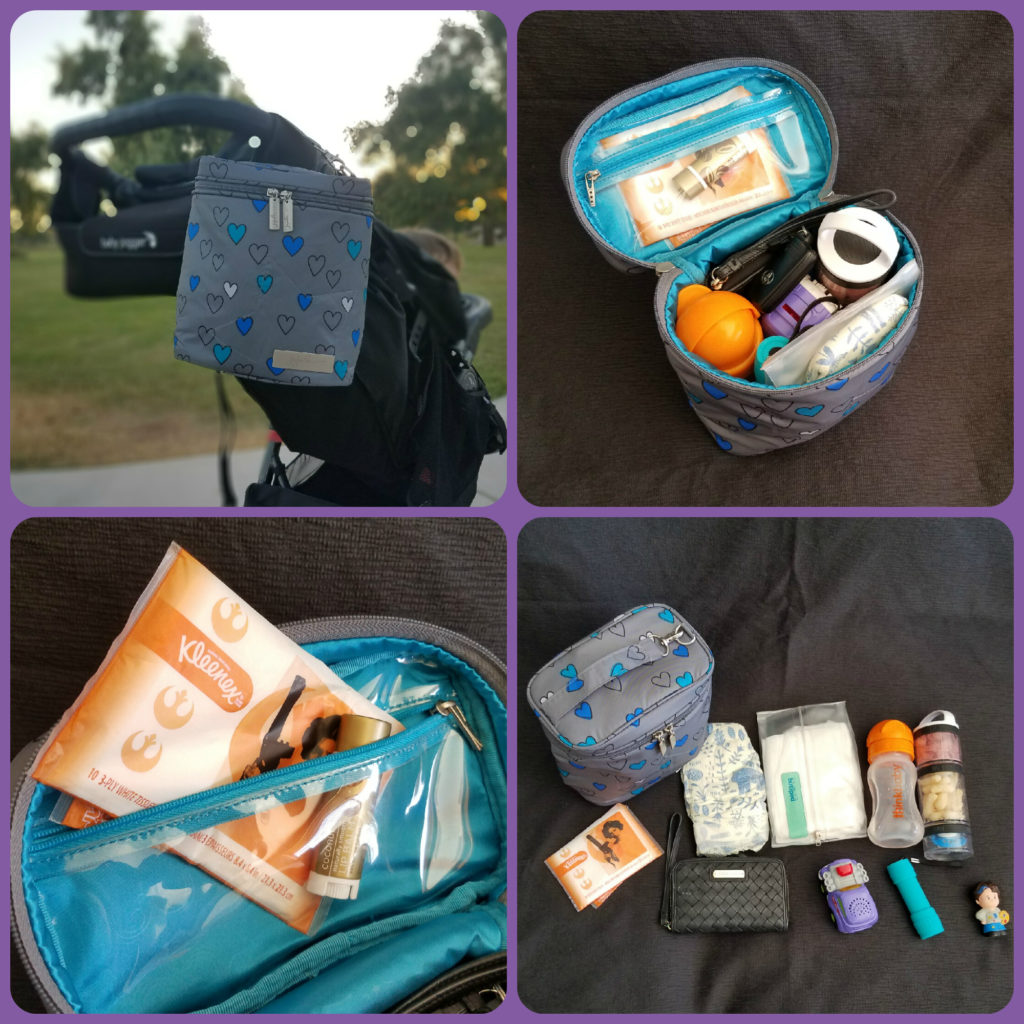 When the weather is nice and cool in Arizona, I enjoy going for a walk for some exercise and just to get out of the house for a bit with my kids.  I found that it is easier for me just to throw some essentials into a fuel cell and go.  I typically pack a sippy with water, a snack tower, flashlight (in case it starts to get dark), toy, tissues, a diaper and some wipes and my wallet.  The fuel cell can be attached to my strollers handles for easy access or thrown in the storage space under the seat.
11. Travel Toiletries Bag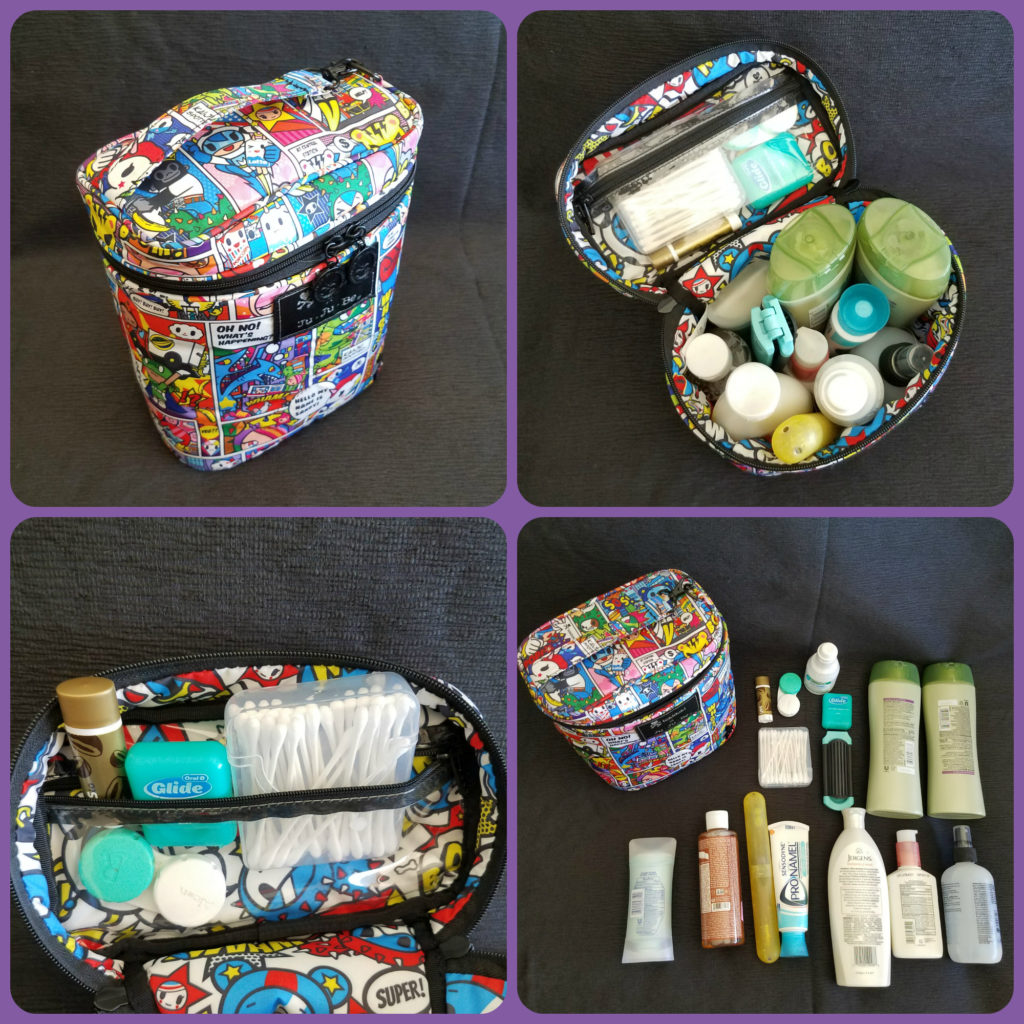 A fuel cell is a great way to transport your full size toiletries.  Whether it is just an overnight stay or week long vacation, I can fit a full bottle of body wash, shampoo, conditioner, lotion, hairspray, face wash/moisturizer, toothpaste, toothbrush, deodorant, hairbrush, and contact saline.  I like to keep my contact case, dental floss, lip balm and q-tips in the top zipper pocket.
12. Car Kit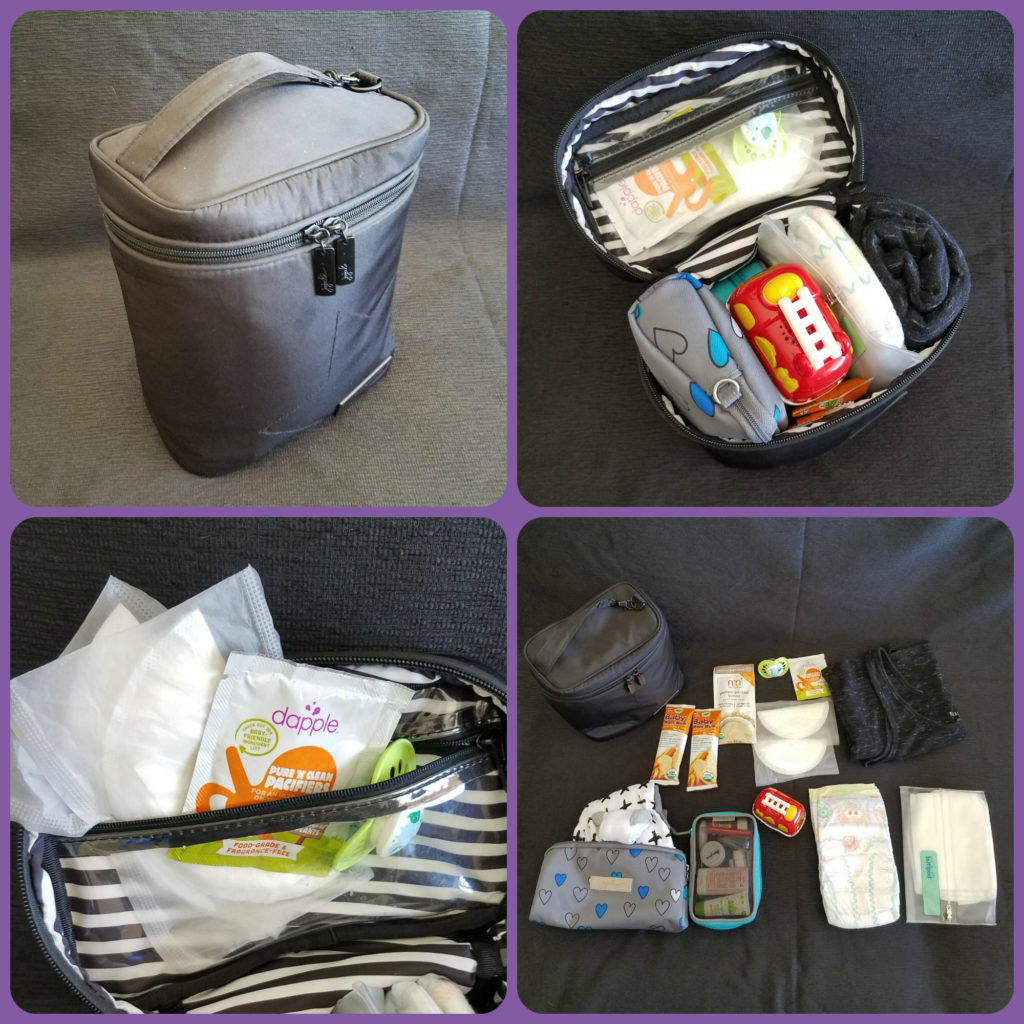 I find it helpful every now and again to have a sort of emergency car kit for the unexpected.  I guess I should say expected but not regularly occurring.  In this bag I keep a first aid kit that contains bandages, sunscreen, lip balm, nail clippers, ointment, children's Motrin, etc.  I also keep a few nursing pads, pacifier wipe, pacifier, snacks, a few diapers, wipes, toy(s), change of clothes for baby and an extra shirt for myself.
13. Pumping/Milk Storage Bag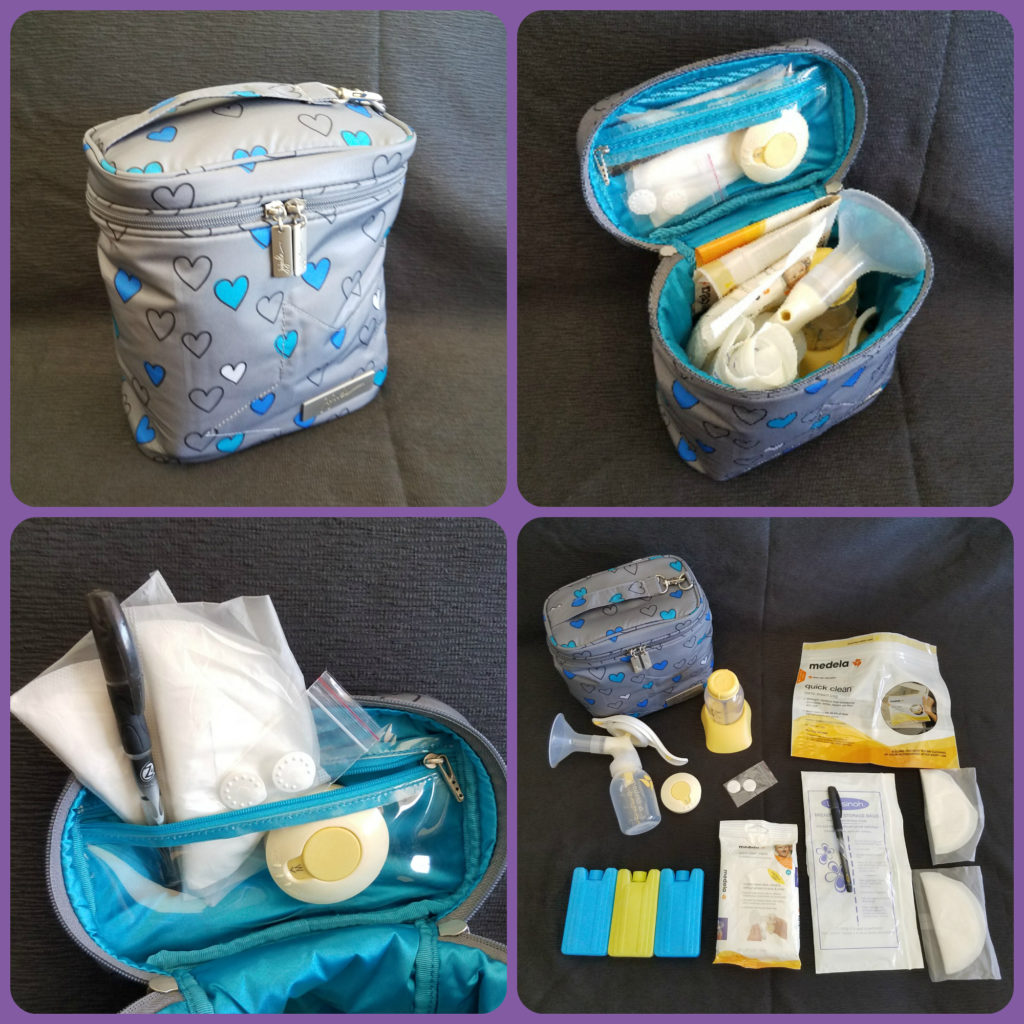 When I was pumping frequently and away from home this little pumping kit made it easy for me to pump and store my breast milk. This kit has everything I could possibly need when on vacation or for just an overnight stay away from home.  This fuel cell contains two bottles, milk storage bags, manual hand pump, three mini ice packs, quick clean wipes, a sanitizing bag, extra membranes, nursing pads and a pen for labeling.
14. Camera Bag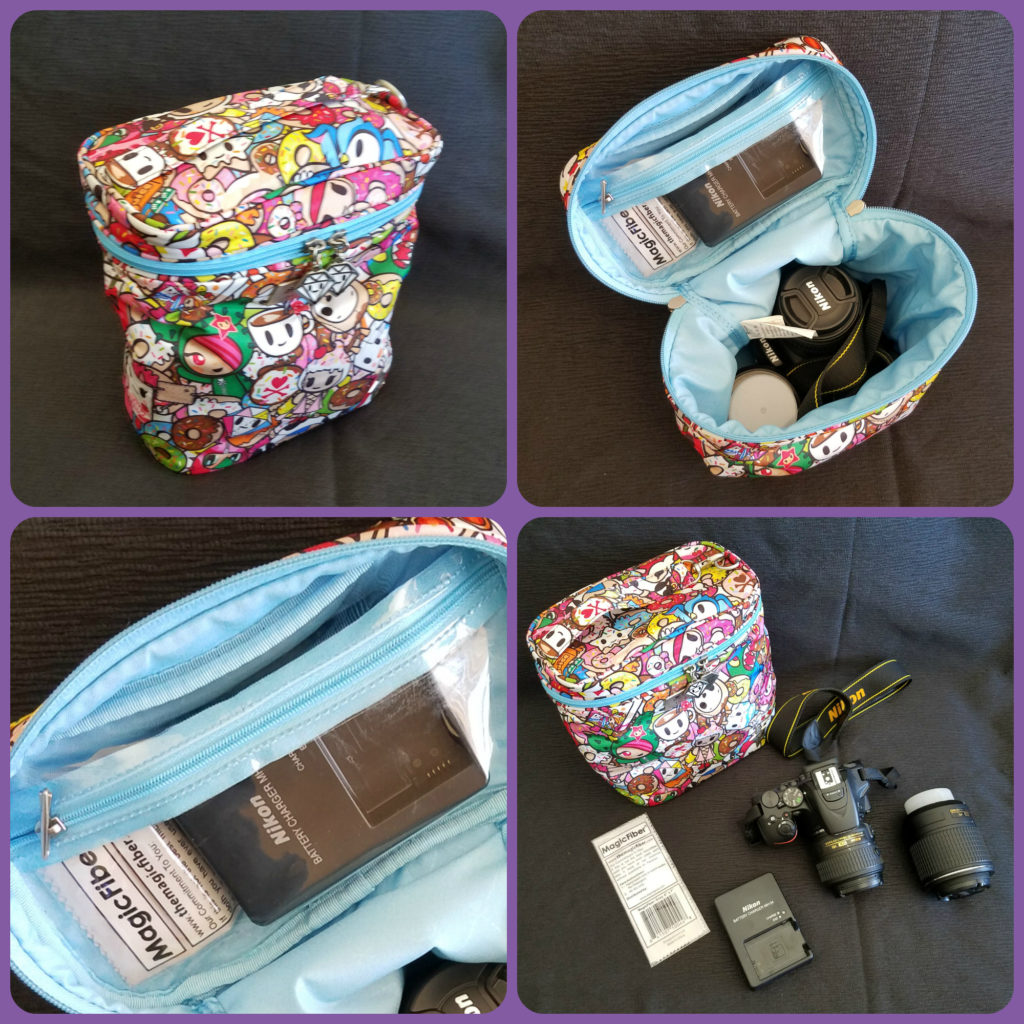 Sometimes I want to take my camera with me somewhere without having to lug around a larger camera bag.  If I only plan on using one or two lenses I like packing my DSLR in a fuel cell so that I can fit it in my Ju Ju Be BRB along with my diapering items.  I can fit my charger, cleaning wipe and an extra memory card (not shown) in the top zipper pocket.  There is also room for a small tripod in the main compartment.  I do however recommend wrapping your camera or at the very least adding a little more padding to make sure your camera and extra lens don't collide and get damaged.
15. Baby Shower Gift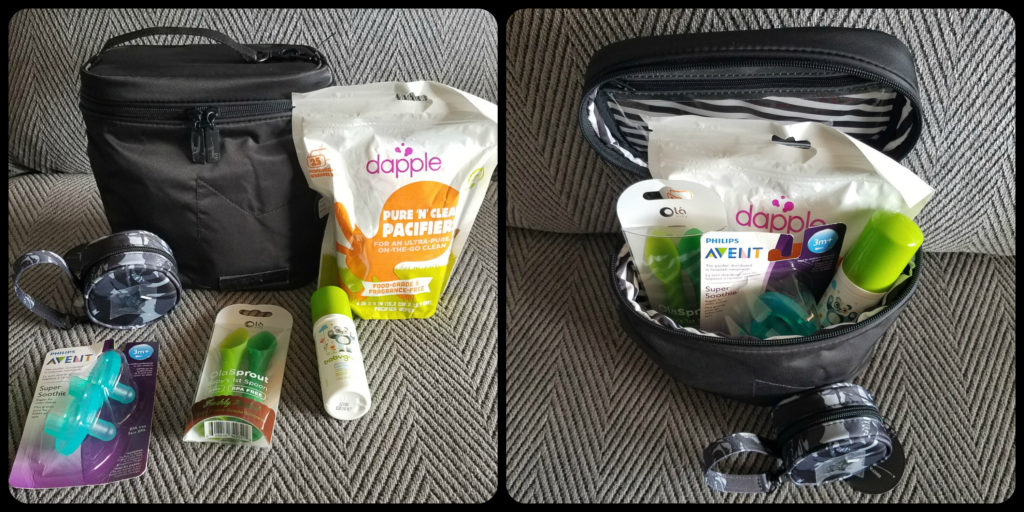 A fuel cell can also make a cute and practical baby shower gift.  I purchased a few of my favorite baby essentials as well as a Ju Ju Be fuel cell in a fairly neutral print to use as a gift bag.  To top off this "gift bag" I attached a Ju Ju Be Paci Pod.  I hate buying gift wrap or disposable gift bags, the cheapskate in me would prefer to spend my money on something that won't be thrown away immediately.  My favorite baby items that I had included were Dapple pacifier and toy wipes, Babyganics hand sanitizing foam, Avent soothe pacifiers, and the OlaSprout spoon set (you can read my product review here).  There are many different ways to make this little baby shower gift bag look super cute, you can wrap in cellophane and tie with a bow for a more "dressed up" gift.
Amazon Links:
OlaSprout Spoons here, Babyganics Hand Sanitizing Foam here, Dapple Pacifier Wipes here, Ju Ju Be Paci Pod here.
So, as you can see there are many different uses for a Ju Ju Be Fuel Cell.  I am definitely a fan and collector, when they release a new print that I love a Fuel Cell is always on purchase list.  The price point makes it easier to add to my collection and the versatility ensures that I will get plenty of use from it.  I hope that other Ju Ju Be fans and "Pink Ladies" have found this post useful!
Thanks for reading!!!
Follow me on Social Media