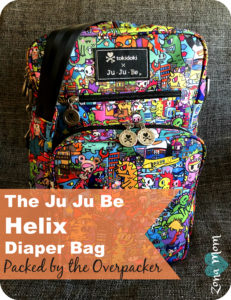 Are you an over packer?  Have you been looking messenger style diaper bag that fits all of your needs?  Well, I have news for you, I too am an over packer.  I know what you are thinking… "yay, we have something in common"… right?!  For those of you who don't understand why we parents over pack,below are just a few reasons.
Saving hundreds of dollars by packing snacks instead of eating out
Extra change of cloths for toddler…

ACCIDENTS TOTALLY HAPPEN WHEN YOU ARE NOT PREPARED FOR THEM.

Toys or books are the perfect cure for boredom while running errands or waiting for an appointment.
Well, this week I am showing you how and what I pack in my Ju-Ju-Be Helix diaper bag.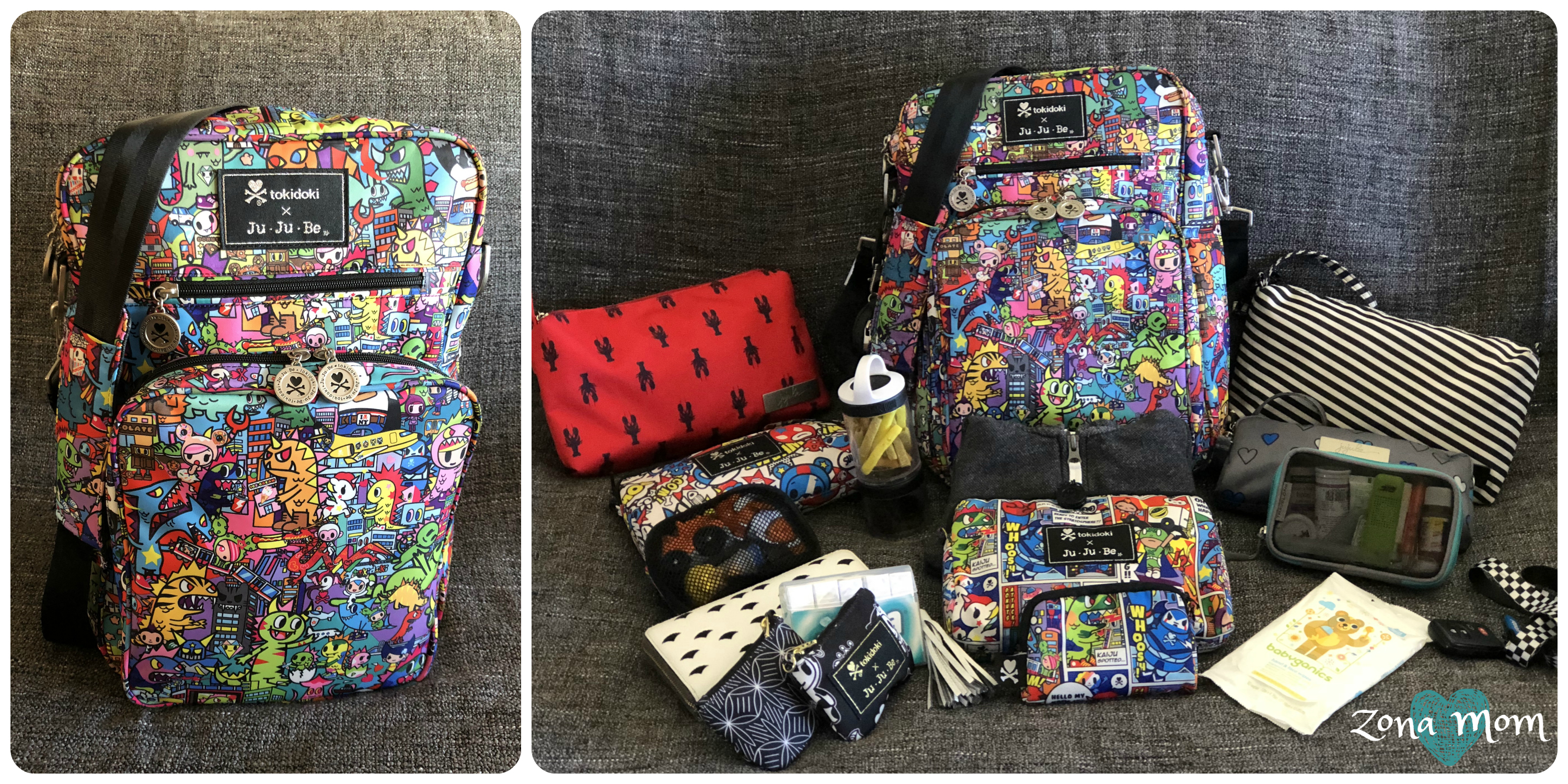 My husband and I absolutely love our Kaiju City Helix, pictured above.  I guess it is technically his, but… when you are married you share everything… right?  Well, we do at least.  Also pictured are other various styles and prints of Ju-Ju-Be bags.  They are great for organizing and make it easy to switch from diaper bag to diaper bag.
Inside Each Pocket, Pouch and Bag…Unpacking It All
---
The Front Pocket
This pocket is a great pocket for the parent.  It is very easy to access and fits quite a bit.  I can fit my large wallet, a small pack of hand and face wipes, a large pack of gum, keys, a Ju-Ju-Be coin purse, and a Ju-Ju-Be small set piece.
The Coin Purse:  I keep an Iphone charger and earbuds.
The Small Set Piece:  This is my small essentials only travel cosmetic bag.  Inside I minimally pack a MAC compact, MAC lip liner stick, small lotion and eye drops.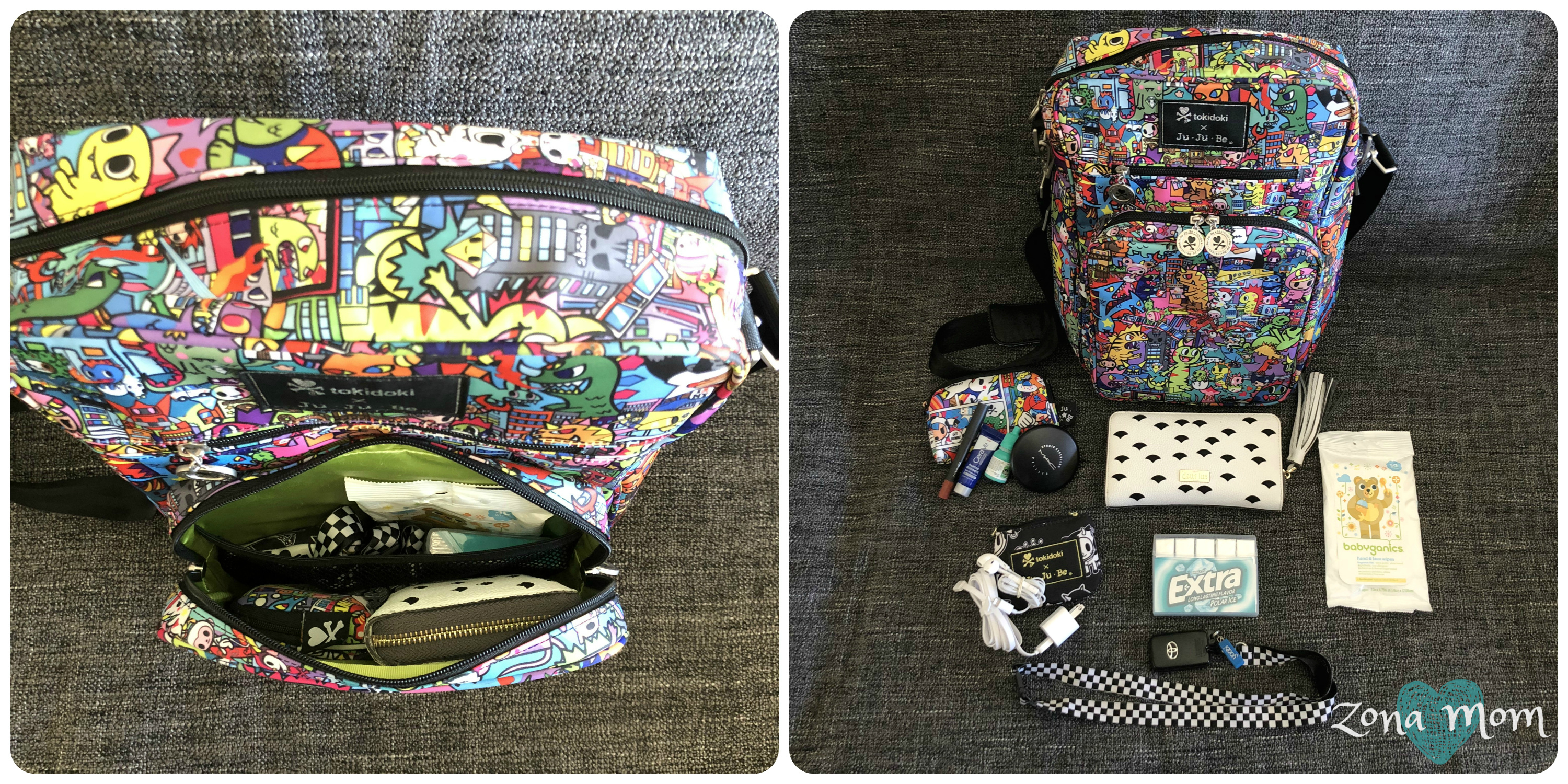 ---
Front Tech Pocket and Side Insulated Bottle Pockets
This bag has TONS of pockets!  There is a soft lined tech pocket on the front.  Insulated bottle pockets can be found on each side.  The insulated pockets are set in, and take up space from the inside of the bag.  With that being said, I actually prefer to pack these last.
The Tech Pocket:  It fits my Iphone 8 Plus comfortably or a pair of sunglasses.
The Insulated Side Pockets:  I can fit my son's ThinkBaby Thinkster water bottle in one, and a GoStak in the other.  In this packing I can only comfortably fit one or the other inside the pockets.

---
Back "Hidden" Tech Pocket
Once again TONS of pockets!  I really like that Ju-Ju-Be included two lined tech pockets.  This back pocket can be used for a spouse's phone if you are together and out and about.  Sometimes I like to keep my own phone in it and store my sunglasses in the front one.  A small pack of tissues also fit well in this pocket.  But currently, I have another Ju-Ju-Be coin purse in it.
Coin Purse:  Inside this coin purse I keep individually packages anti-bacterial wipes.  It is flu season and having these on hand is a must for me.

---
---
In The Main Compartment
This bag is deep, like super deep.  I find that packing in layers works well with this bag.  Placing items less often used in the bottom up to items you grab frequently on top.
From The Top
First I am going to say, the weather here in Arizona has been weird!  It is currently winter and we have had 80°F days followed days that don't reach 60°F.  I like to have space in the top for a hoodie for my son.  Also, remember how I mentioned it was either/or with the insulated pockets.  There is room in the top for the snack tower making it easy to grab.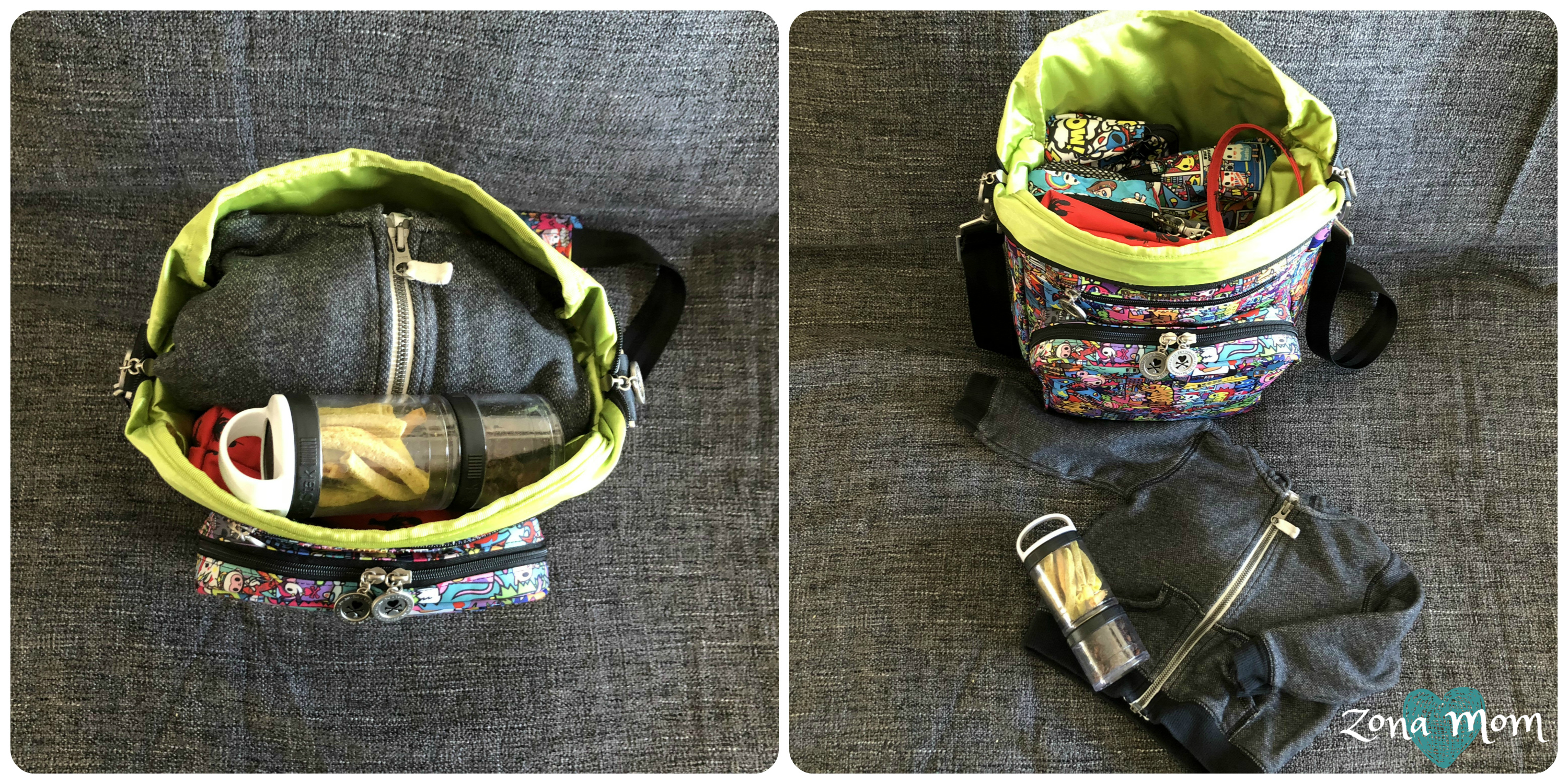 Also included in the top of the Helix is a small Be Organized mesh pouch
I like to keep a few toys and coloring pages with me.  Crayola Color Wonder Mess Free markers are my favorite.  I just fold up a couple of piece of the compatible coloring pages with a few colors wrapped up within.

---
Next "Layer" 
This is actually more like the main layer.  This is where I keep the diaper bag "staples" if you will.  Here I have a Ju-Ju-Be Be Quick.  It contains diapering needs, I have pictured both cloth and disposable diapering needs in two separate Be Quick bags.  I ONLY PACK ONE, NOT BOTH.  I also have a Ju-Ju-Be medium set piece.
Be Quick Packed for Cloth Diapering:  When using a Be Quick for cloth diapering I can only fit one diaper in this kit.  My son is now a toddler and the diapers are much bigger.  When he was an infant I could fit up to three in this kit.  I keep a Butipod wipes pouch with homemade flannel wipes and a mini spray bottle in the bag as well as a small PlanetWise wetbag.  The change pad is from my husbands XY collection Base.   I like the thinner change pads and would rather use a plain pad instead of a limited print change pad.
Be Quick Packed for Disposable Diapering:  In the Be Quick packed with disposable diapering items I can fit three disposable diapers in size 4.  I also have a Huggies refillable wipe pouch and hand sanitizer.  The change pad also fits in nicely.
Medium Set Piece:  This pouch is kept as a snack bag.  I can fit a small sack for each member of the family.  Usually a granola bar or something similar and a couple of pouches for my son.  I also keep a bib, food scissors and a silicone place mat for when we do go out to eat.

---
Large Side Mesh Pocket
A large mesh pocket is located on one side of the main compartment.  On the opposite side of the main compartment there are two smaller mesh pockets.  I don't typically pack anything in the two smaller pockets.  However in the large mesh pocket I keep a large and a medium Ju Ju Be set piece.
Large Set Piece:  In the large set piece I keep my planner supplies.  My calendar/planner, Frixion pens and Frixion highlighters all fit snugly.  I don't always have this with me and this is actually the item that determines whether or not I get to use both side insulated bottle pockets.
Medium Set Piece:  I always keep a change of cloths for my toddler in a medium set piece.  Consequently the one time I didn't bring it…ugh…lets just say it was bad.  Anyhow, this outfit is kind of a dingy and old so I don't mind not seeing in the regular rotation making it perfect for emergencies.  I also have a pair of mittens and socks packed.

---
The Very Bottom
Again, a very deep bag.  A first aid kit can be found in the bottom of my Helix.  I prefer to use a small Travelon packing cube for my kit.
Travelon Packing Cube First Aid Kit:  This first aid kit is for the whole family.  It contains everything like lip balm, bandages, antiseptic wipes, children's ibuprofen, adult ibuprofen, nail clippers, nail file and more.  I also keep a spare set of disposable contacts.  I have terrible eyesight and cannot risk being without even just one contact.  Thus, the first aid kit comes in handy frequently and will always be with me.

---
Well there you all have it,  my Ju-Ju-Be Helix is packed to the max.  Another thing that I like about the Helix is how well the messenger strap can be hung over the handles of my City Mini Jogger stroller.  Thus, making it ideal for days when I go to the zoo or somewhere similar and need to easily grab my bag instead of leaving it with the stroller when going into attractions.
There have been a lot of people in various Ju Ju Be groups expressing uncertainty on how to pack the Helix.  I hope that you have found this helpful.
If you are interested in this bag as a personal bag (not a diaper bag) or as a carry-on bag and would like to see it packed for that, let me know in the comments below.  My husband uses this bag for travel and does pack it pretty efficiently.
Below are links to items in my post that can be purchased on Amazon.
These links are affiliate links, which means that if you make a purchase using one of these links, I may, at no additional cost to you, receive a commission. You can read my full disclosures statement here.
Thank you.
Follow me on Social Media