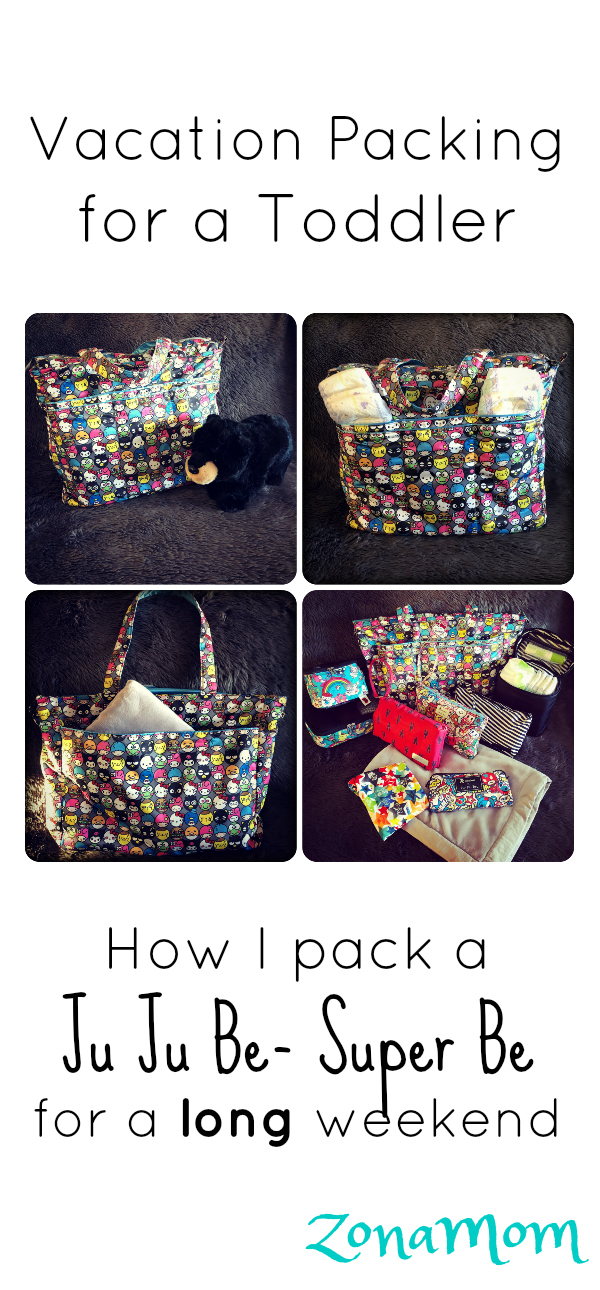 Hello again readers, this week I am sharing with you how I managed to fit everything that I need for my toddler over a long weekend all in one bag.  "What sorcery is this?" you ask.  It is the magic of Ju-Ju Be.  If you haven't heard of Ju-Ju Be Diaper Bags, you have been missing out.  I personally am a huge fan of these bags.  Ju Ju Be bags are perfect for people who love being organized, plus they are machine washable.
This most recent Christmas, the family and me packed up to spend a long weekend with my in-laws.  With our two dogs in tow our family of four (six including the pups) needed to pack ourselves as organized as possible in order to fit everything in our vehicle.  We each had our own Ju-Ju Be Super Be bag to pack in.  We each fit very well and very organized in our individual bags, but we all require so much less than my 16 month old.  He however, was more of a challenge.  Our stay at the was for four days and three nights over the holiday weekend.
My mother/father-in-law have a beautiful home out in the Arizona desert and one of the kids favorite things to do out there is play in the dirt.  I don't know why kids love dirt so much, but they do.  Me, knowing that my son was inevitably going to get filthy during the day, wanted to make sure to pack a couple of extra changes of clothes.  Two of the three evenings were to be spent enjoying holiday dinners and activities with the rest of the family, so these outfits would be the nicer looking for photo clothes.
Below is what I packed for the weekend

Ju- Ju Be Be Organized- Large Piece: In this I packed three full outfits perfect for playing outside.  I folded up a pair of pants within a shirt and rolled the ensemble with a pair of socks inside, making it easy for anyone to get Jasper dressed.


Ju-Ju Be Be Organized- Medium Piece:  In this packing cube by Ju-Ju Be I packed two "nicer looking" complete outfits to change into after playing outside all day.  The medium packing cube fits 2 t-shirts, 2 button-up shirts, 2 pairs of pants and 2 pairs of socks (sized 18 months).

Ju-Ju Be- Be Quick:  In the Be Quick I packed up three sets of pajamas, all three contained a nighttime diaper.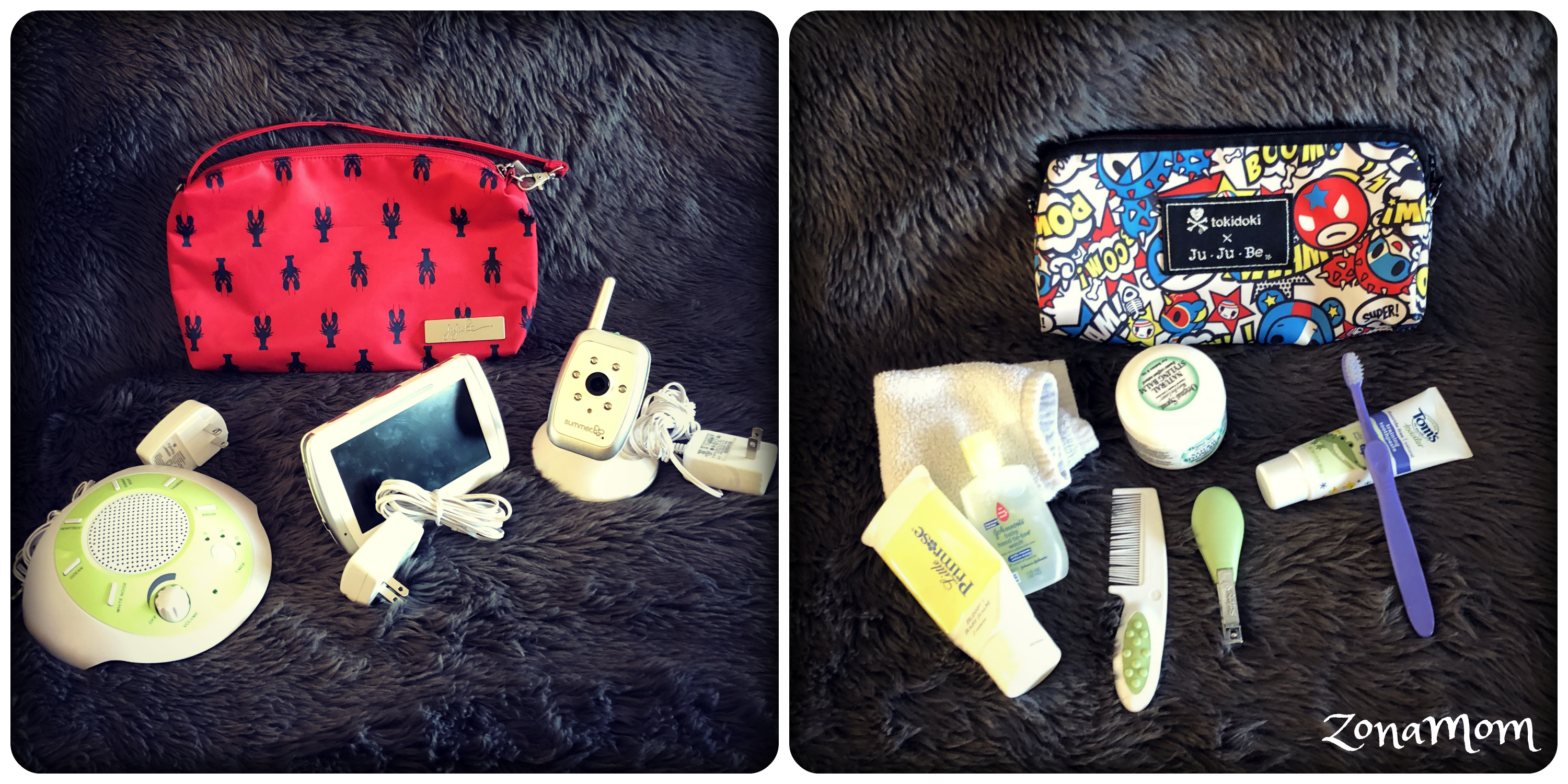 Above from left to right
Ju-Ju Be- Be Quick:  I was able to fit my son's white noise machine and his video baby monitor.  We like to spend time with just the adults after all of the babies go to bed.  My son sleeps much better with his ocean waves and we can keep an eye on him while playing cards using our video monitor.
Ju-Ju Be- Be Set Medium Piece:  This bag fits all of my toddlers toiletry items.  Inside the bag there is a toothbrush, toothpaste, comb, baby wash, baby balm, nail clippers, washcloth and Original Sprout Natural Styling Balm.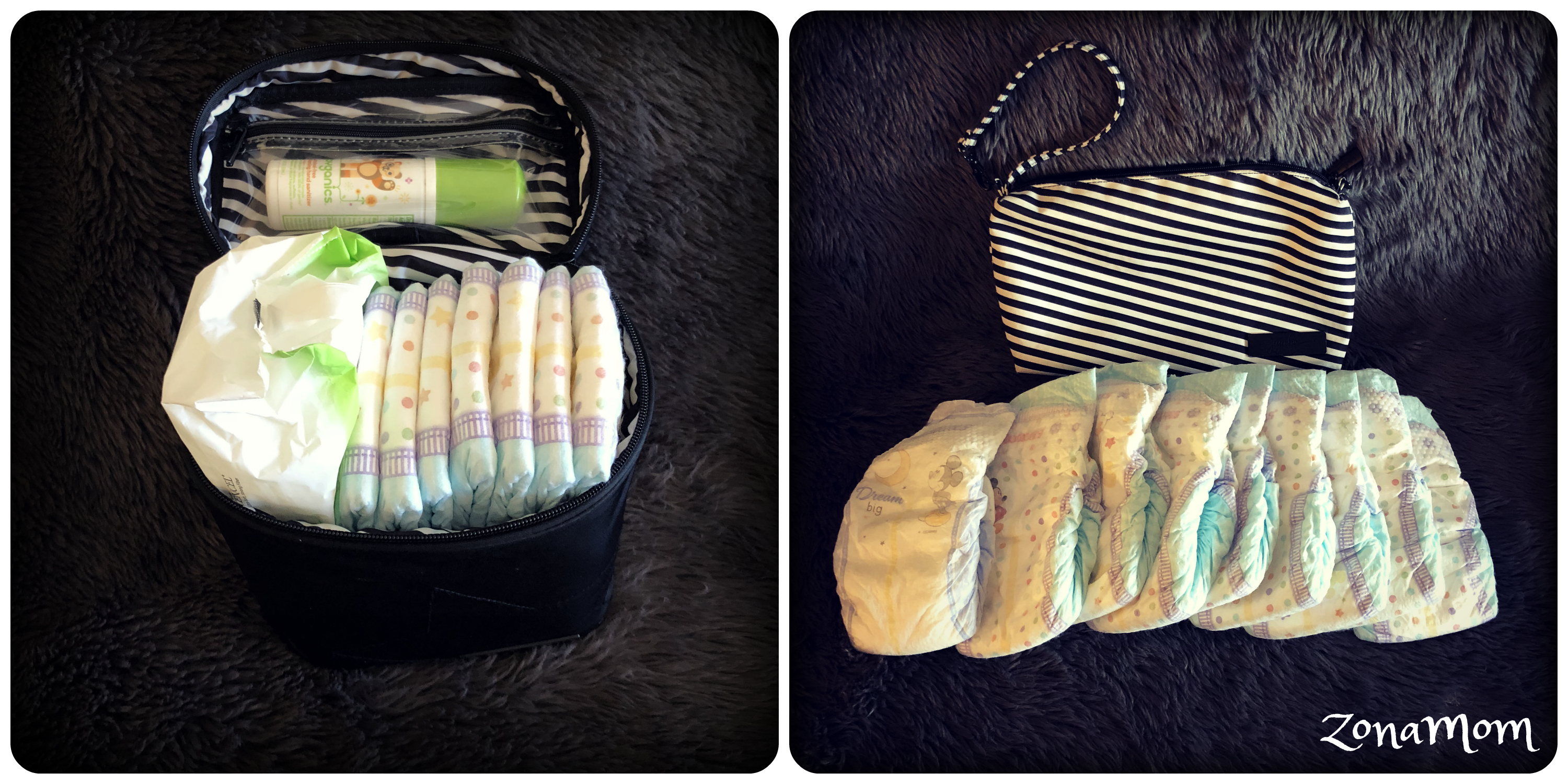 Above from left to right
Ju-Ju Be- Fuel Cell:  I like to pack a fuel cell as a easy to move around diapering kit.  My in-laws have a main house and a casita which is where we were staying.  Having a diapering kit that I kept over in the main house made it easier for quick diaper changes.  This fuel cell held a full pack of wipes, nine diapers and a hand sanitizer in the top zippered pocket.
Ju-Ju Be- Be Quick:  I packed another 9-10 diapers in the Be Quick to keep in the casita with us.  I was very surprised at how many size 4 diapers could fit in this bag… very impressive Ju-Ju Be!
Packing it all up in the Ju-Ju Be Super Be
In the interior zippered pocket I kept my KangaCare wet-bag.  We always pack wet-bags for our dirty clothing while we are away from home.  Coming home and being able to just toss our dirties in the wash right away makes unpacking so much quicker and easier.
On the bottom of the main compartment I place the three packed Be Quicks standing upright as well as the Fuel Cell.  The medium set piece containing toiletries is inside one of the side mesh pockets.
On top of those bags I placed my two Ju- Ju Be Be Organized packing cubes.  By the way… the Be Organized comes with three different sized mesh packing cubes, the smallest one makes a great mini first-aid kit.
In the front pockets I crammed a few more diapers in each, you know, just in case… (pictured below left)
In the giant back pocket I fit my son's favorite "blankey" folded up nicely (also pictured below right).
Also (not pictured), in the small zippered pocket located in between the two pockets containing diapers, is an extra "binky" and a small bottle of Infant Motrin, just in case Jasper's teething gets really bad.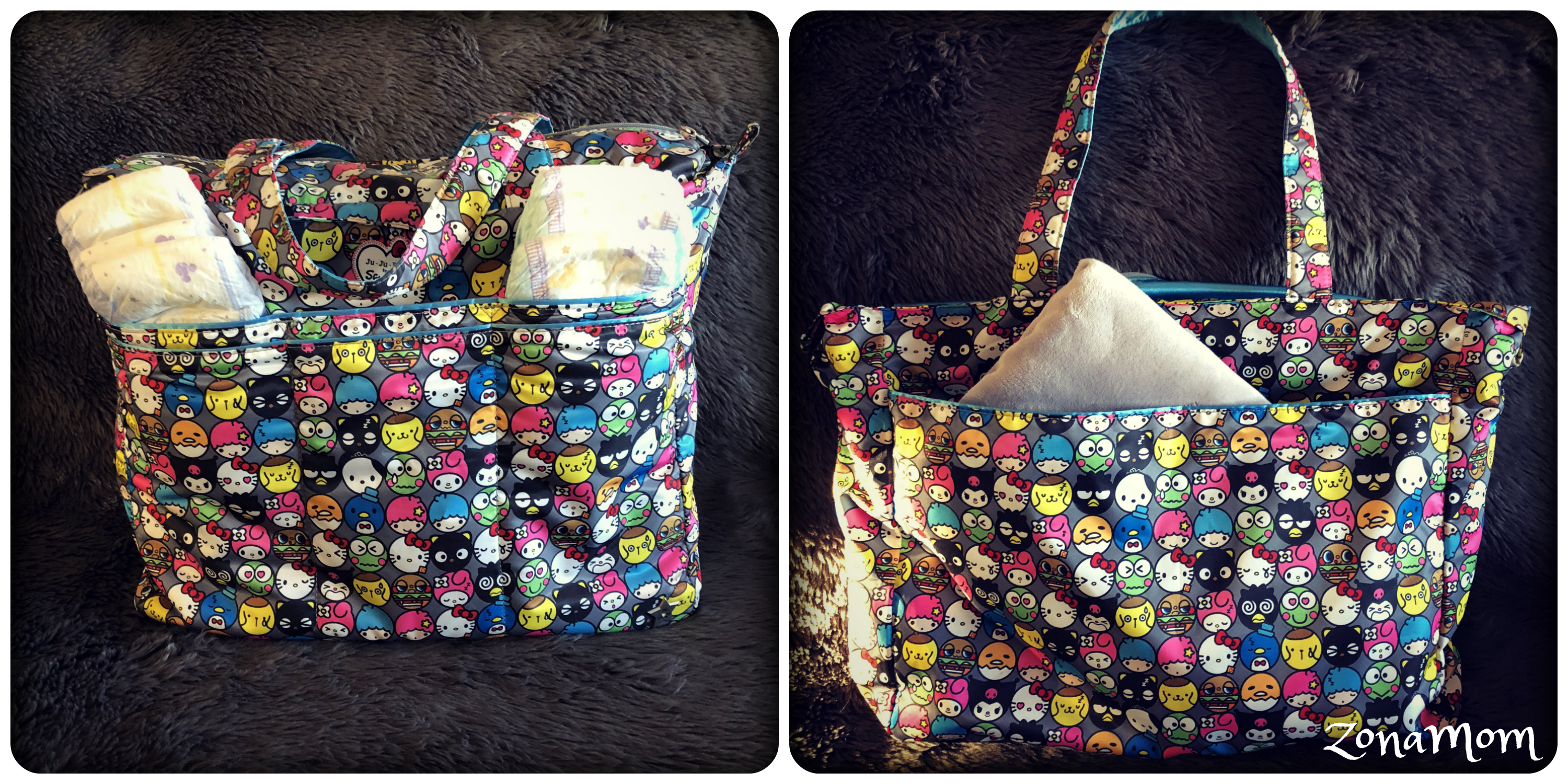 That is it, everything I packed up for a long weekend or mini vacation for a toddler.  I absolutely love my Ju-Ju Be Super Be diaper bags.  Ju-Ju Be bags have so many uses and they work great as weekender bags for the whole family.  I also really love all of the smaller bags and organization pieces that Ju-Ju Be sells.  The smaller bags help keep me organized while away from home and while packing for a trip.  If you have not yet discovered the awesomeness of Ju-Ju Be, I dare you to try out one of their bags and not love it!
Below are some links to Ju-Ju Be products available on Amazon if you are interested in checking them out.  You can also check out the Ju- Ju Be website.
This post contains affiliate links, which means that if purchases are made using these links, I may, at no additional charge to you, receive a small commission.
Ju-Ju Be Products featured in this post:
  SUPER BE- A large light-weight tote style diaper bag.
BE QUICK- A small zippered bag that can used as wristlet or shoulder bag.
BE ORGANIZED- Three different sized mesh packing cubes
BE SET- Three different sized zippered pouches
FUEL CELL- An insulated bag, perfect for snacks and transporting breast milk.
Other Products that I love featured in this post:
KANGA CARE WET BAG- Makes a great travel laundry bag or cloth diapering laundry bag.
 ORIGINAL SPROUT NATURAL STYLING BALM- Safe for use on babies and children.
Thanks for reading and I hope that you have found this packing post helpful.  I am really truly impressed with the Ju Ju Be Super Be and love how useful having a bag this size is.  I would never have bought one intentionally until I received one in a blind box that I had ordered from the Ju-Ju Be website.  After using as a car bag that held various baby items, I realized its potential and now own several.  If you have any questions or comments please leave them below!
April J.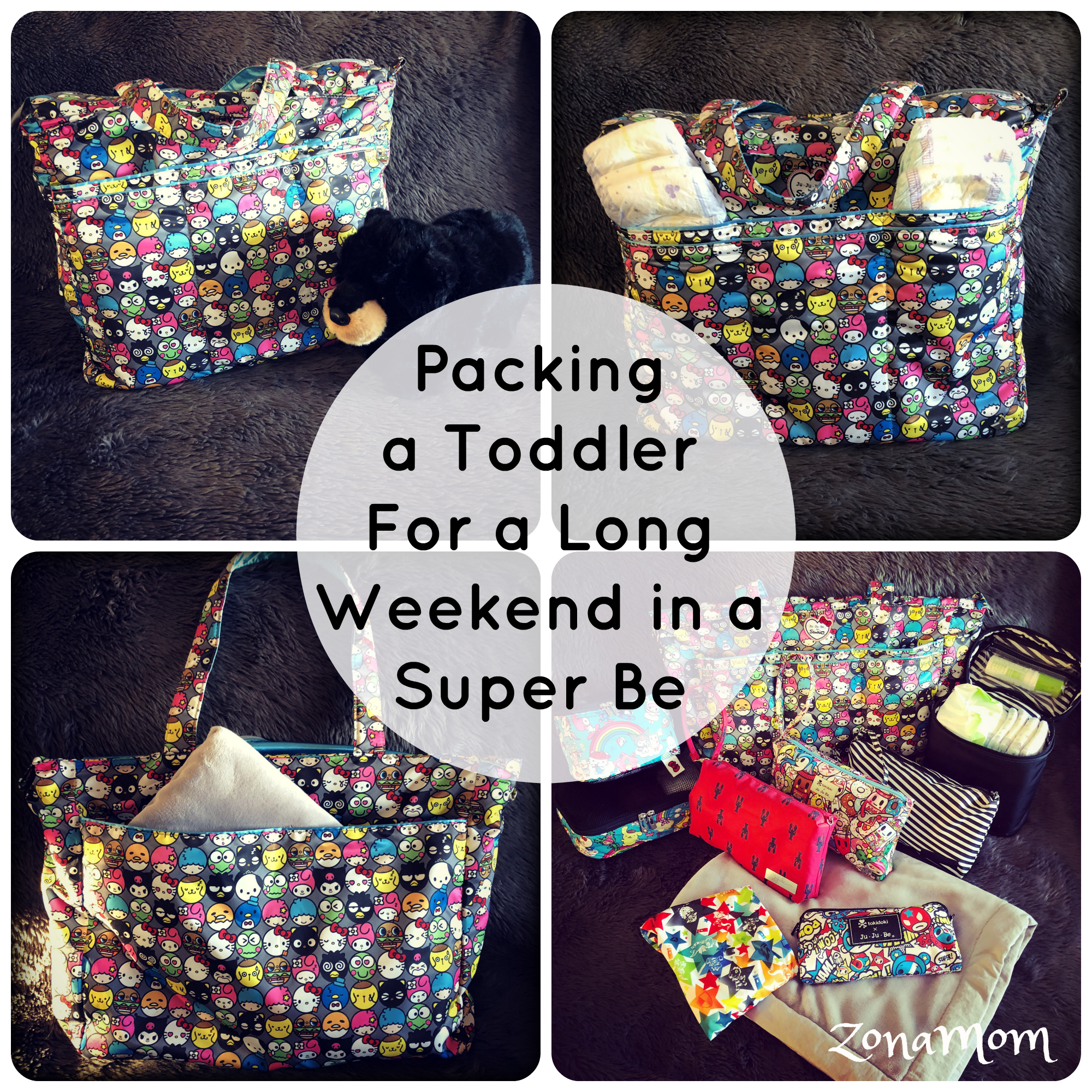 Follow me on Social Media