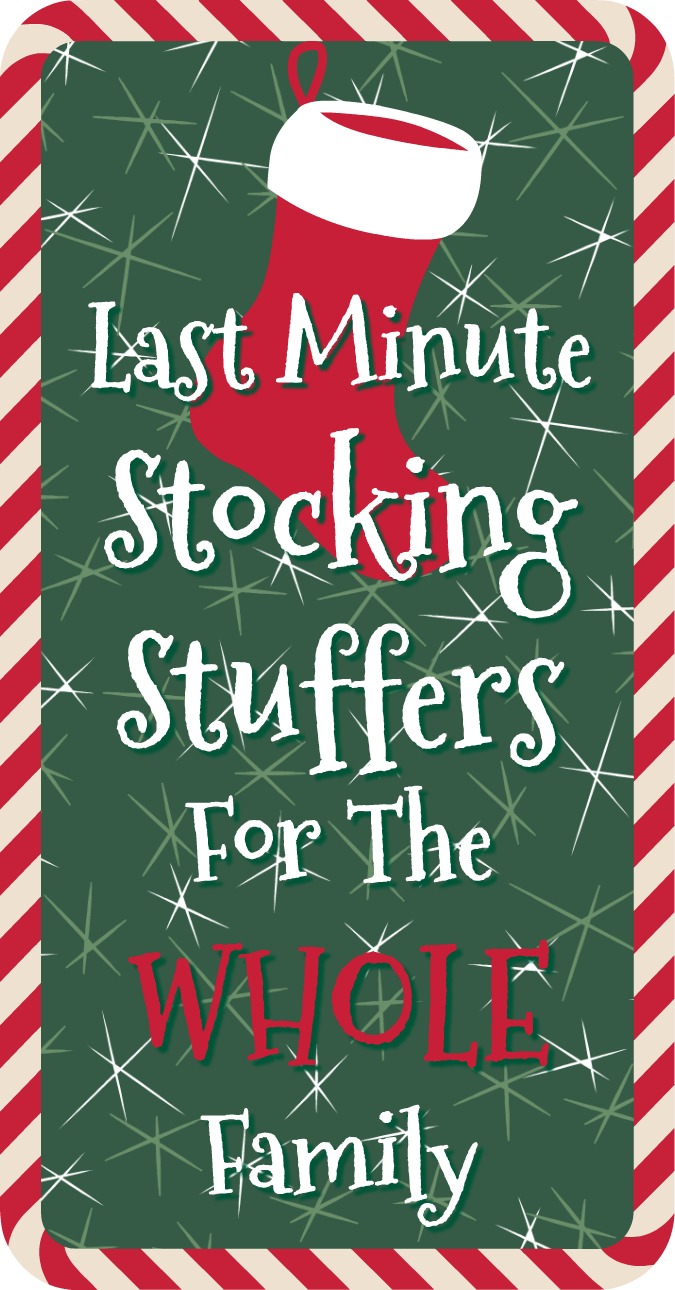 We are officially in the "final countdown" for holiday shopping.  The deadline is fast approaching and Christmas is ONE WEEK AWAY!  I have good news for you, there is still time to order from Amazon and have items arrive in time to fill those Holiday stockings.  I have put together a list of stocking stuffer ideas for the whole family.  There are so many great options for stocking stuffers on Amazon.  I kept it simple by only listing my favorite three for each age.
Please Note: This post contains affiliate links, which means that at no extra cost to you, if you make a purchase using one of these links I may receive a small commission.  Thank you.
Stocking Stuffers for Baby
I personally feel that you can never have too many books for your kids.  These little indestructible books are great for babies, they can pull and chew on these forever and they will last.  Plus they can be washed.

Something practical and consumable is good for a baby's stocking
A toy for baby.  This fun looking sensory toy is amazing for teething and exploring with little fingers and mouth.
Toddler Stocking Stuffers
These egg shaped crayons are perfect for a little artist's small hands.
Once again… books, kids love new books.  Like I said before, you can never have too many.
A practical gift that make brushing teeth fun, there are several different animals to choose from.
Big Kid Stocking Stuffers
This small Lego set can be built three different ways.
Another practical gift for the older kids and it comes with two brush heads.
Sidewalk chalk is a yearly stocking stuffer for my daughter, she loves playing outside with the neighbors and they go through chalk like water.
Tween Stocking Stuffers
My 11 year old daughter and all of her friends love Stranger Things and any type of fan collectibles.
Some of the best colored pencils for a young artist, pairs great a coloring book or sketch book.
Of course the Amazon gift card is a great stocking stuffer for all ages.  Sometimes kids at this age can be really hard to shop for, why not give them the freedom to chose something for themselves?
Young Adult/Teen Stocking Stuffers
Brain puzzles are always fun and the perfect cure for boredom.
So many people love this game and it is a lot of fun with a group of friends.
A practical gift for students.
Mom and Dad Stocking Stuffers
While out and about doing grown-up things, who couldn't use a backup battery for their cellphone?
This can be placed in/on any item that you frequently misplace… car, keys, wallet, etc.
I know that a simple streaming device is always a great gift.  Pair it with an Amazon, Netflix or Hulu subscription  and snacks for a "movie" themed gift.
I hope that you have found some great ideas or inspiration in this list.  I would love to hear what your favorite "out of the box" stocking stuffers are.  Please comment below.
Follow me on Social Media