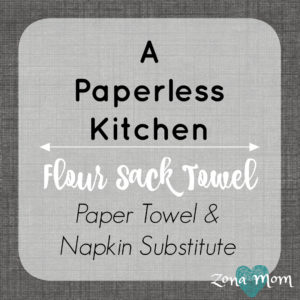 Who wants to save some green while being more "green"?  How you ask…  by replacing paper towels and napkins with cloth and creating a paperless kitchen.  These DIY napkins and paper-towel replacements are not only economical, but they also help reduce paper waste and save THOUSANDS of trees.
So readers, as part of my family's New Year's resolution we have resolved to lower our contribution to the landfills.  We are making changes in our home to reduce, reuse and recycle.  You can read more about our resolution and some of the products we are switching out for better more enviro-friendly options here, http://zonamom.com/new-years-resolution-to-be-more-green-how-to-succeed/.  One of the ways we are doing this is to eliminate the use of paper towels and napkins.  Of course there are already cloth napkins and you may be able to find a decent price on these, I however opted for a less expensive option using flour sack towels.
---
A Few Facts About Paper Towels
To make one ton of paper towels, 17 trees are cut down and 20,000 gallons of water are consumed.
1 tree produces enough oxygen for 3 people.
Every day, over 3,000 tons of paper towel waste is produced in the US alone.
This means that everyday 51,000 trees are cut down and turned into paper towel waste.  Oxygen for 153,000 is being destroyed.  60,000,000 gallons of water is consumed to produce this convenience product.
---
So, without further ado…
Easy D.I.Y Paper-less Towels and Napkins
The links in this post contain affiliate links and I will receive a small commission if you make a purchase after clicking on my link. Read my full disclosures here.
What you need: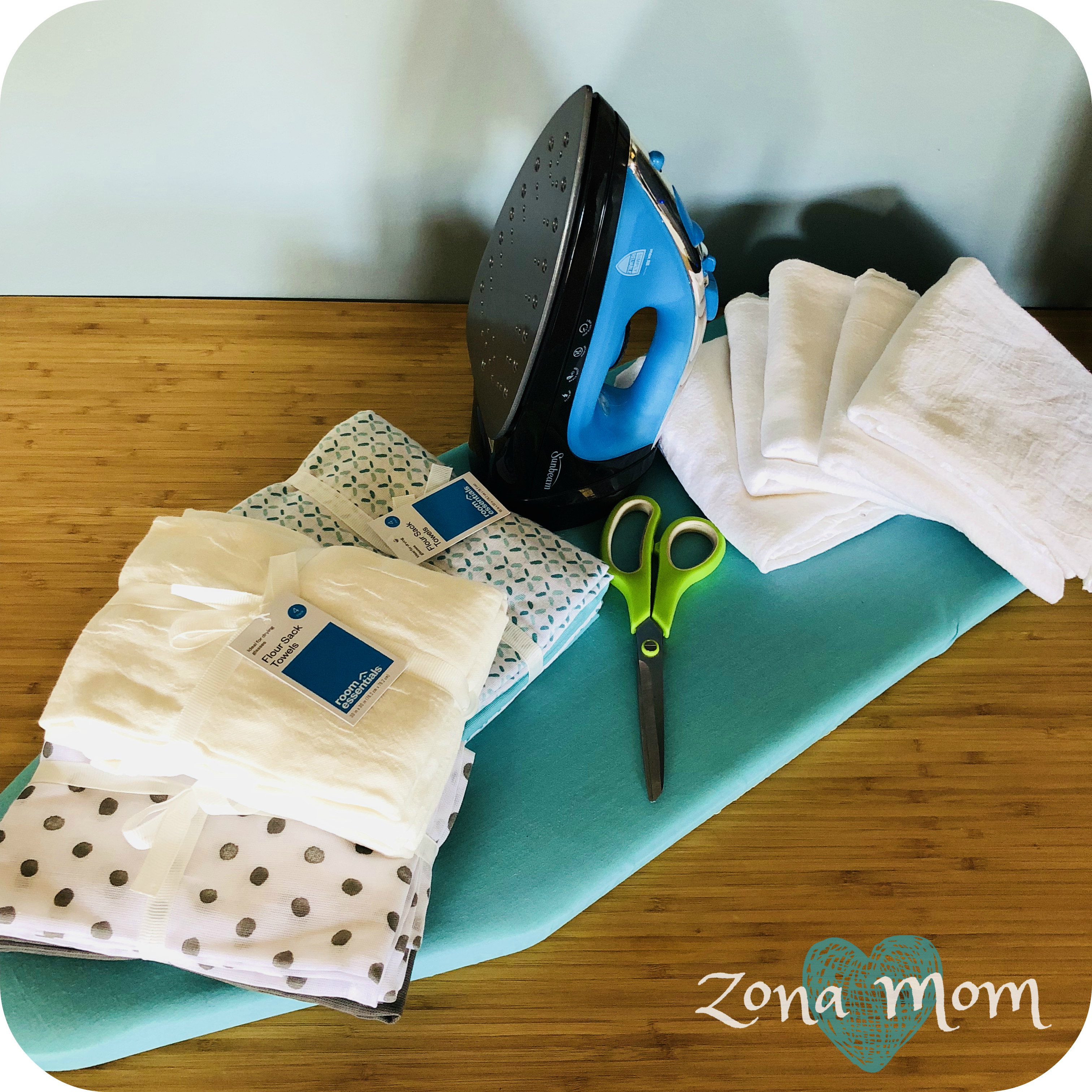 Flour sack towels
Scissors
Iron
Sewing machine (optional, but definitely makes this process quicker)
We found a variety of flour sack towel 4-packs at Target for $3.99 a pack.  I opted to use the plain white flour sack towels in the kitchen as our paper towel replacement.  We also purchased some colored/patterned flour sack towels to use as napkins on our dining room table.  Target has some really cute baskets that I thought would be perfect for storing my "un-paper" towels and napkins.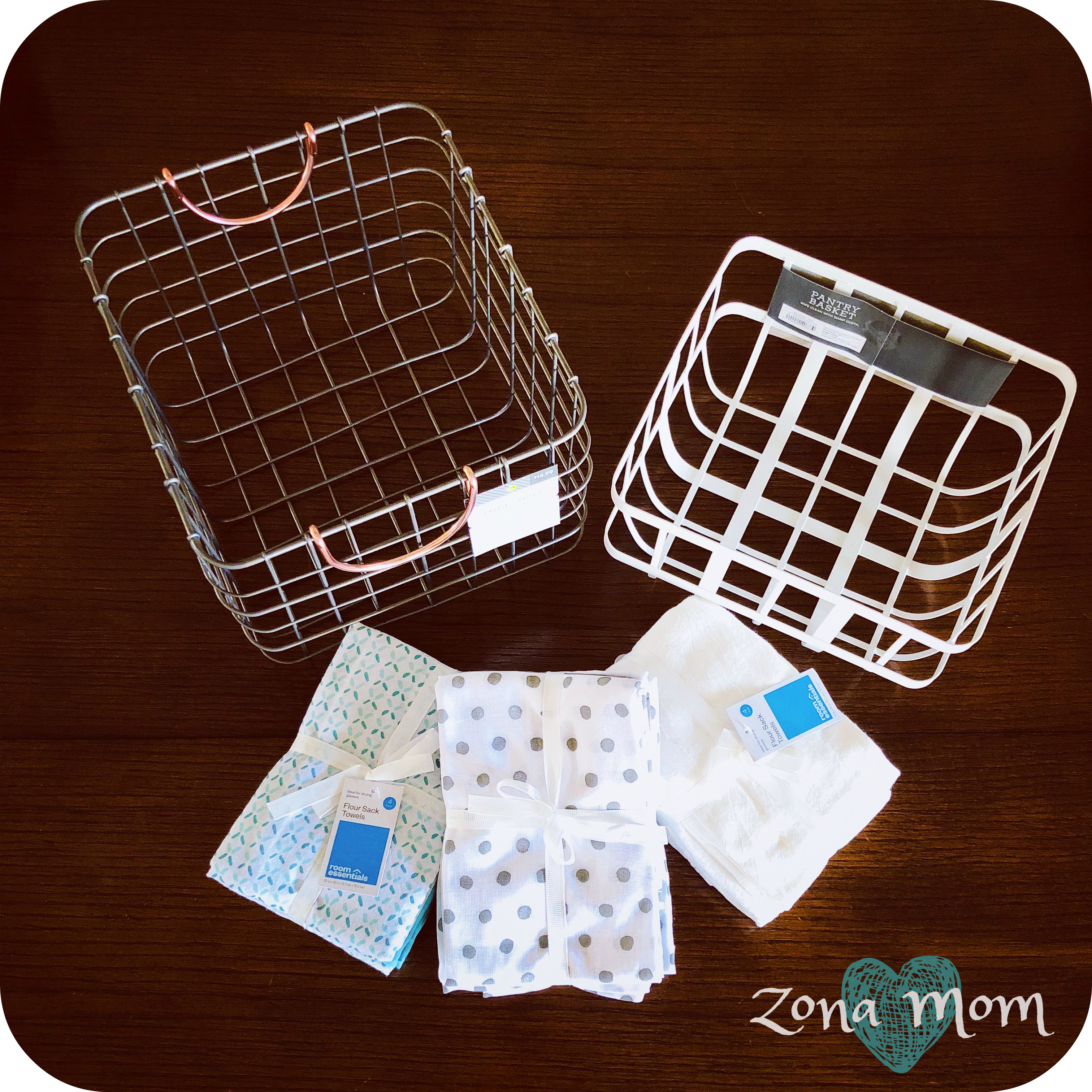 Simple Steps
Without pre-washing the towels, fold each one in half and then in half again.
Iron to smooth and create creased edges.
Unfold the towel and cut along creases (you will now have four pieces).
There will be two rough edges (the ones that have been cut), fold each edge over about 1/4″-1/2″ and press with iron, then fold each edge over again and press with iron to make a "finished" edge on both of the cut edges.  These do not need to be perfect, the finished edges help keep the fabric from unraveling.
Once you have pressed all of the rough cut edges, use a sewing machine and straight stitch along those two sides.
Wash before use.
*** These steps can be time consuming depending on the amount of flour sack towels you are using.  I had 17 flour sack towels with made a total of 68 paper towel/napkin substitutes.  This project took me a few hours to complete.***
The Completed Paperless Kitchen Project
---
As you can see these re-purposed flour sack towels can be dressed up a little bit when placed in a cute basket with a fun chalk board label.  I personally love the way they look, they have a sort of farmhouse vibe.  The paper-less towels pair well with an all-natural homemade cleaner in a Cleaning Essentials glass spray bottle which can be found here.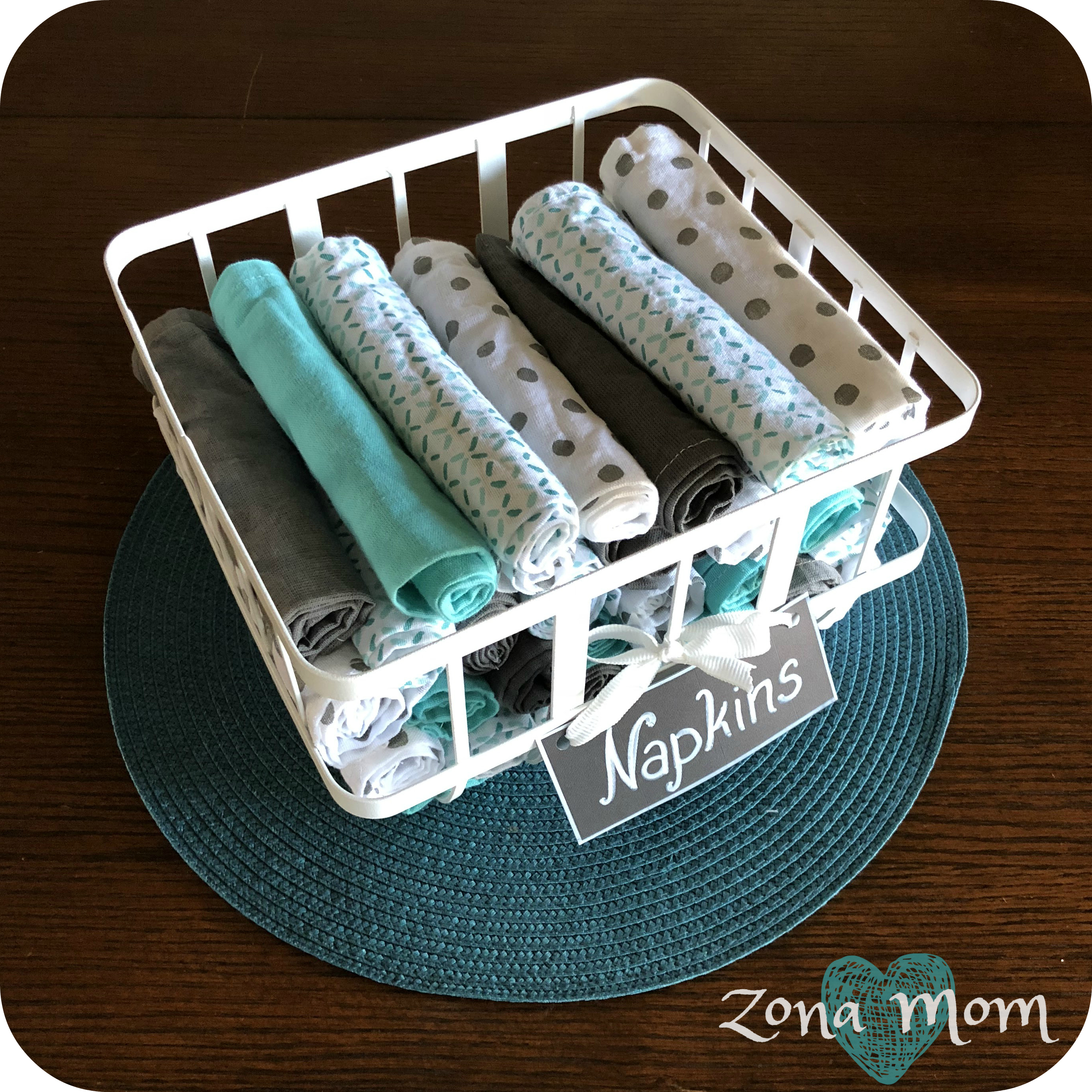 For the napkin basket, I thought it looked much nicer when I folded the napkins in half then rolled up.  The basket of rolled napkins looks great in the center of my dining room table.
So, to break the cost down for you…
I spent a total of $35 on this project including the decorative baskets (which is totally not a necessity).  $12 of which was just for the flour sack towels.  Each pack contains four towels which then get cut into fourths… you end up with 16 napkins/towels at $0.25 each per pack of towels, awesome right?!
So if you are trying to make changes in your home to become more environmentally friendly and waste less, I recommend trying this little project out.  It won't only reduce the amount of paper waste in your home, but it will save you money.
What enviro-friendly changes have you already made in your home?  I'd love to hear from you in the comments section below.
Thanks for reading.
-April aka ZonaMom
Follow me on Social Media