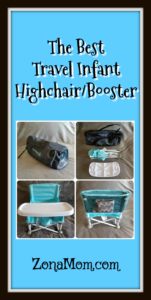 This week's review is on the Summer Infant Pop N' Sit.
 I came across this item while shopping on Amazon for my upcoming family vacation.  We are flying from Phoenix, Arizona to spend seven days at the Jersey Shore with my husband's family; his parents, three siblings and their spouses as well as seven children ages 10, 9, 5, 4, 20 months, 15 months and 10 months.  From there just my husband, two children and I are driving to New York City for a couple more nights vacation.  This will be our first time traveling a long distance and being away from home for more than a couple of days with our baby Jasper.  While we are totally able to rent a highchair as well as other various baby items for the rental home we are staying in, it just seemed easier and less expensive to buy this fabulous little pop up chair and pack it in a suitcase.  We also were in search of a replacement for the Bumbo that our son grew out of to keep in our car.  We do eat away from home often and it is nice to know that we always have a safe and easy way to feed Jasper, whether at a friend/family member's house or even a restaurant that doesn't have highchairs.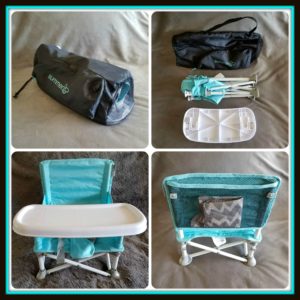 The Pop N' Sit comes with a snack tray, and a mesh pocket perfect for storing a bib and utensils.  Everything fits well inside the durable drawstring carrying bag that has an exterior zippered pocket and a comfortable shoulder strap.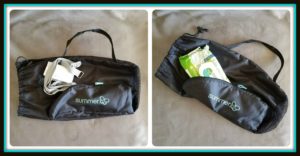 I keep the straps that attach to the Pop N' Sit and convert it into a booster as well as a pack of baby wipes for a quick and easy clean-up of baby and tray.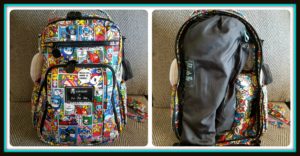 Another awesome thing about the Summer Infant Pop N' Sit is that it fits inside my Ju Ju Be BRB backpack!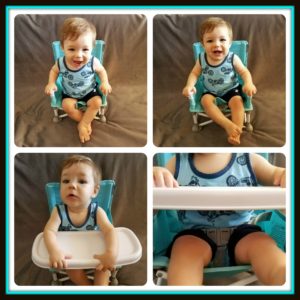 Jasper LOVES his little chair, he like to just sit and play in it.  Plus… as you can see in the bottom right picture, there is still tons of room for his legs to grow!  I SERIOUSLY LOVE this chair and feel that it has truly made leaving the house with a baby so much easier, I showed it to my Mother-in-law and Sister-in-law and they both had to have one.  They both found theirs at Target and are also planning on bringing theirs with them on our family vacation!  I cannot wait to see the three littlest boys sitting in their special chairs on the beach.
So that's it folks, if you are traveling, camping, going on a picnic with a baby or just want to make leaving the house with a baby easier; the Summer Infant Pop N' Sit is a great buy.  I ended up purchasing mine at Buy Buy Baby so that I could try Jasper in it first and use a 20% off coupon… I ended up spending less than $30.  If you don't have a Buy Buy Baby near you, it can be purchased on Amazon here.
Follow me on Social Media