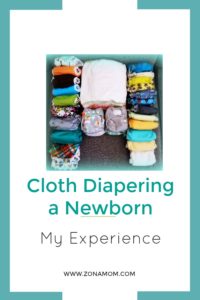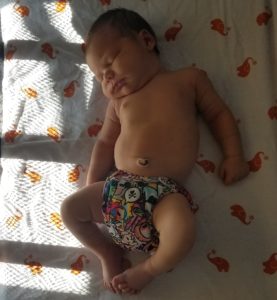 Let me start by saying that I have only been cloth diapering in the seven months since my sons birth.  When my husband and I decided that we wanted to have another baby we of course wanted to consider all of our options in regards to everything.  We discussed cloth diapering for several reasons… money, we wanted to save as much money as possible; safer for baby, no unlabeled or mystery ingredients up against our baby's skin; environmental impact, we didn't want to add to the mountains of diapers in the landfills that won't decompose in our lifetimes; cuteness, seriously cloth diapers even look cooler than disposable.
So where to start?  Do your homework, I researched as much as I possibly could.  l watched You Tube videos, I read other blogs, I asked family members who cloth diapered and read Amazon reviews and joined a cloth diapering Facebook group (which was the most informative of all).  Even with all of that research I found that it really is just something you have to dive into and figure it out as you go.  But I will tell you what I found to work best for us and what didn't work; where I feel like I could have saved some money and what I should have put more of my money towards.
MY Newborn "Stash"
24 AIO (all-in-ones) which included 6 Kangacare Lil Joeys, 4 Thirsties, 7 Grovia, 6 BumGenius and 1 Blueberry.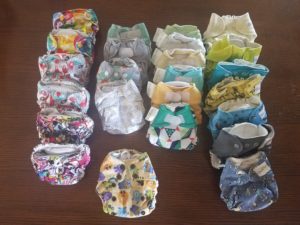 THIRSTIES– These were my favorite AIO to use on my newborn and I preferred the aplex closure; they were the easiest to get a good snug fit and cleaned and dried the best.
BUM GENIUS– They were great in the diaper bag when we were out because they took up the least amount of space and we needed to bring a lot of diapers with us anywhere in the beginning… newborns pee and poop CONSTANTLY.  They do not have the flap style pad, all of the absorbent fabric is inside the lining but they are not very thick and do dry fairly quickly.
GROVIA– The Grovia fit well and the were my second go to in the AIOs, they just didn't seem as soft on the inside but fit well and we had zero leaks or blowouts.
KANGACARE LIL' JOEYS– I LOVED the prints on the Lil' Joeys but absolutely hated the cleaning process of them, not only did it seem impossible to get the double gussets (which are also awesome at keeping poop in) clean but it took FOREVER for them to dry.  Everything is on the inside of the diaper in the lining on the Lil' Joeys and not a flap like the others which means a long drying time to get through all of those thick layers.  Also, I gave birth to a 9lb 2oz baby boy which did not give him much time in the Lil Joeys, if he was smaller like my daughter who was 7lbs 2oz at birth, we would have gotten more use out of these and probably enjoyed them more.  But if I could go back in time I would have saved myself the $30 per 2 pack and put that $90 total into something else for baby Jasper.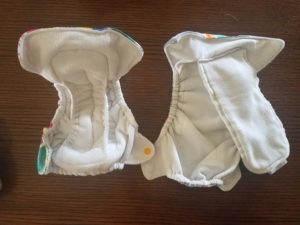 BLUEBERRY- Now when I was researching so many people had only good things to say about Blueberry Diapers but in all honesty this one a hated.  It is a pocket AIO and a total pain to stuff with it being such a tiny little diaper.  It also leaked every time.  I prepped it properly, it seemed to fit well but it just didn't work for us.
COVERS/ PREFOLDS/ INSERTS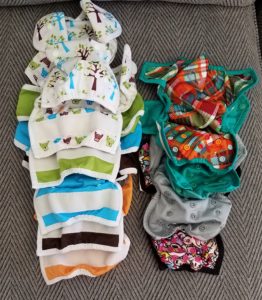 Thirsties Covers (left)- I loved these, they were so easy to clean and the aplix (velcro type) closure made it easy to get a good fit around baby's tummy and the double gussets kept the diaper from leaking.  I did have a couple of the Thirsties covers with the snap closure but found that the aplix worked best for me in this brand for my newborn.
Kanga Care covers (right)-  These fit my son wonderfully even with the snap closure.  I preferred the snap closure as opposed to the aplix in this brand, the aplix was a little too rigid and didn't seem comfortable.
EconoBum prefold– I really liked these and still use them on my 7 month old.  They are very easy to do a pad fold and are super absorbent.
OsoCozy prefold– these worked out they are also pretty absorbent but they don't lay very neatly in a pad fold.
Blueberry prefold– I didn't care for these very much at all.  They pilled up a bunch throughout all of the prepping and washing and seemed rough on baby's skin.  They were at the bottom of my diaper stack and would only use them when all others were dirty.
Blueberry inserts–  I liked the inserts, they were easy to use, no folding necessary, I could just throw them into a cover and call it good.  If I felt that he needed a little more absorbency I would wrap the insert in a prefold that was folded pad style.
Grovia prefold– I LOVED these the most.  They were so easy to fold, fit nicely in all of the covers and were great by themselves when he was not a super heavy wetter.  I also liked how nicely the Blueberry inserts fit pad folded into the thin Grovias to add a little extra absorbency.
Clotheez prefolds (Green Mountain Diapers)– These were my favorite "one and done" as far as pad folding.  They are really absorbent, easy to fold, easy to clean and very durable.  I am actually the third owner of these and they are still holding up really well and I am sure that all of that use prior to my son only helped make them more absorbent and "broken in".
In Hindsight…
Alright, so that is what I had to work with from the beginning and gave you my own reviews and opinions on the brands and styles.  Knowing now from my own experience I would have totally simplified and saved some money by not going as crazy purchasing the all in ones.
I did diaper laundry every third day and feel that it was pushing it as far as odor control and cleanability(yes I made that word up) of the diapers, I definitely would not go any longer than four days without washing.  With that being said, my perfect newborn stash and diapering needs would have been…
12 All-in-ones (for the diaper bag or family members who are unfamiliar with cloth diapering)
36 prefolds (12 of the thinner GroVia and 24 Clotheez)
15-20 diaper covers (Thirsties and Kanga Care)
45+ cloth wipes (DIY flannel)
2-3 peri bottles for wetting your diy wipes
2 Large wet bags for step open trashcan (nothing fancy it is a total waste of money, I spent $50 on a diaper can and ended up much happier with a $9 garbage can from Target).
2 wet/dry bags for the diaper bag (NOT Skip Hop, they fell apart after a few washes)
Good laundry detergent for cloth diapering (I like Rockin Green)
Honestly do what you can to save money on the newborn diapers, it is such a short time that your baby will be in them and buying used (in good condition) is a great option.  OfferUp, Craigslist, local baby resale stores and online B/S/T groups are great places to look for used diapers in good to excellent condition.  If you do buy new obviously look for deals on good brands and do your best to take care of them and you may, that is if you decide to, be able to resale them and make back a decent amount of your money to put towards future diapering needs.
Thanks for reading and keep an eye out for future cloth diapering posts.
Follow me on Social Media