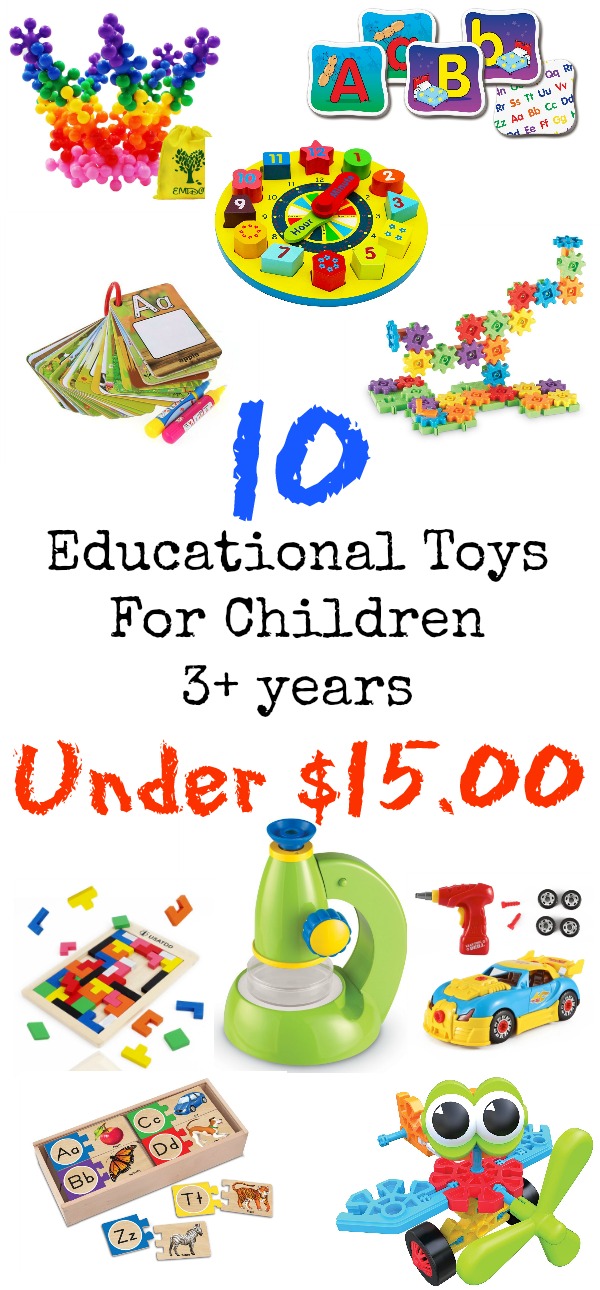 As the holidays rapidly approach, you may find yourself in need of gift ideas for the "littles" in your life.  I have tons of children in my family unit and circle of friends so that means a lot of gift giving.  Don't get me wrong here, I truly enjoy giving gifts but I do however, have limited funds so I have to keep gifts under a certain price point.  I have searched Amazon and found my favorite educational toys for kids three years old and up all for $15.49 and under, these items are also available for Prime Shipping.  The titles as well as the images below the descriptions are also links to the items on Amazon, so if you are interested on the item just click the image.
Please note:  This blog contains affiliate links, which means that I may make a commission from purchases made using these links.
Here's the list in descending cost order
Entertain your child's curiosity while they explore everyday items up close.  This view scope magnifies 20x.  There are even prepared slides that you can purchase that make viewing 24 different specimens easy and mess-free.  Recommended for ages 3 years and up.
The gear starter set includes 60 pieces.  This set encourages children to get an early start in engineering and problem solving skills.  All gears toys are designed to be open-ended to get kids imagining and creating.  Not for children under 3 years, there are small pieces that could be choking hazards.
The interlocking building blocks/discs are great for developing your child's imagination and creativity.  This set comes with 120 brightly colored pieces and is not only fun for children.  Adults love playing and building along side their kids with these fun shaped interlocking discs .  Not recommended for children under 3 years, there are small pieces that could be choking hazards.  
The world take-a-part car set is fun to put together with the provided power drill and then reassemble.  This helps develop early engineering and problem solving skills as well.  The 30 piece set includes 5 car parts, 5 modification parts, 8 tires, drill and screws.  Recommended for ages 3 years and up.
The K'NEX Flyin' Pals Building Set includes 26 colorful and flexible parts and pieces that are perfect for your kids' creative hands. This play set lets your kids easily create buddies out of the large, easy to use pieces!  Recommended for ages 3 years and up.
Promotes fine motor skills, early writing skills, drawing skills and visual discrimination.  Absolutely no mess.  Requires no ink, just fill the magic pen with water and draw on the water drawing Reveal Book.  The cards are reusable, drawing will magically disappear as it dries.  Easy to take with you anywhere, a travel essential for those with kids.  Recommended for ages 3 years and up.
This clock features 12 different shapes wooden blocks representing 1-12 hours which fit into matching slots on the clock, numbers of dots at bottom side correspond with the numbers on the top of the blocks.  It is made of sustainable wood with environmentally friendly and non-toxic paints Suitable for ages 2 years old and up.
The detailed pictures encourage interest in all things A-B-C and beyond.  Helps child practice letter recognition and matching skills.  This 52 piece wooden puzzle set come in a wooden storage box with slide in lid.  Recommended for ages 4 years old and up.
This 40 piece wooden puzzle set is awesome for both children and adults.  There are tons of different ways to put it together and is a great brain exercise.  It teaches hand/eye coordination, problem solving, creativity and even mathematics.  Recommended for ages 3 years and up.
This fun alphabet themed memory game will challenge problem solving and develop memory skills of young children as they try to find a pair of matching letter cards.  The game features 26 double-sided matching pairs with bright and colorful illustrations of the upper and lower case letters.  A great family game for ages 3 years and up.
I hope that you found this list of gift ideas helpful.  These are great all occasion educational gifts for children ages 3-4 and up.  If you have any other great budget friendly/ educational gift ideas I would love to hear about them in the comments section below.
Thanks as always for reading!
-April/ZonaMom
Follow me on Social Media