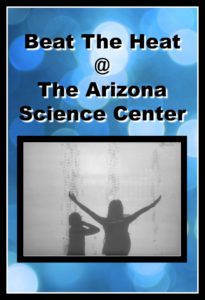 Hi there readers,  sorry I missed posting last few weeks.  It was kind of hectic with Father's Day, plus having an unexpected house guest, a 9 month old with separation anxiety and teething, and an unexpected day of baby sitting.  I know I know excuses excuses!  I don't know that I could actually call it babysitting my niece is 9 years old and pretty independent.  Anyyyywayyy, my husband was returning from a trip to Washington D.C. and it also so happened to be his only day off, my 10 year old daughter absolutely loves The Arizona Science Center and now with her 9 year old cousin spending the day with us… why not go?!  It is insanely hot outside as any person living in the Phoenix area knows (seriously like skin melting hot, it's 120 degrees outside right now) and there is not a whole lot to do with kids on summer break outside.
So with my cranky 9 month old in tow, we found our Arizona Science Center Annual Membership card, grabbed some water bottles and snacks, loaded up in the car and we were on our way to Downtown Phoenix's Heritage Square.  If you are wondering about the annual membership, it is so worth it, I bought mine through Groupon, used a promo code and got it for under $50, it includes 2 adults and 2 child entries as well as four rides on the Skycycle.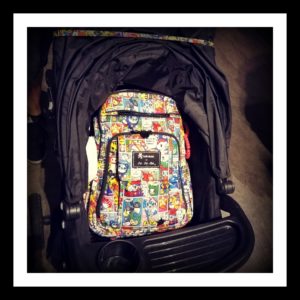 We brought our City Mini stroller and Lillebaby carrier, Jasper just recently started hating riding in his stroller (I think it is because he can't see me) but, we brought both just in case.  He ended up in the carrier the whole time and the stroller just became our "catch all" for everything else.  I would personally rather have the stroller with no baby in it than not have a way to explore the Science Center with my hands free.  The top level is definitely a huge pain in the ass to get through with a stroller as it is super narrow like a hallway and having to use the elevator instead of the stairs can be a real bummer, but we managed and it made the other levels so much easier.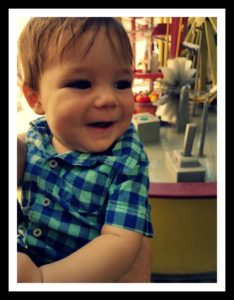 We finished our visit to the Arizona Science Center at the outdoor water play area.  My nine month old loves watching the water wheels and all of the colorful balls being launched up by water.  Another perk to finishing the visit in the water area is that when the kiddos and myself are soaked (there was a kid intentionally diverting the water to soak people coming through the door) we get to walk back to the parking garage somewhat cooled down and are more than likely dry by the time we get into the car.  It was a total blast and a great way to beat the heat.  You can spend a whole day there because there is seriously so much to do and see, or you can go for a few hours and save more exploring for another day with your annual membership.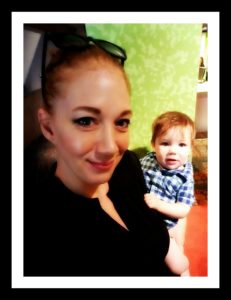 Follow me on Social Media