This week I will be talking about why the EzPz Happy Mini Mat is awesome.  When I was doing my holiday shopping this year I was shopping for four babies who were either new to solid foods or about to start solid foods.  I like to shop in themes when giving gifts for different people all at the same time, I feel like it makes things more "fair".  Anyhow, I chose to do a mealtime theme for holiday gifts so my search for an awesome baby invention began.  My first stop in research is always Pinterest, I like to see what other pinners are finding useful.  I came across a few different pins that had the EzPz mat as a recommended buy.  I found these at Buy Buy Baby for $19.99 and had just enough coupons to score all of them (plus one for my son) at 20-25% off.
Just recently my son has reached the stage in eating when he can pick up small pieces of soft foods and feed them to himself…or to our two dogs that can always be found under his highchair.  Having the EzPz mini mat has made it so easy to let him be somewhat of an independent eater.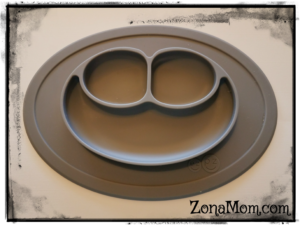 The EzPz Happy Mat is made from 100% food grade silicone; BPA, BPS, PVC, lead and phthalate free.  It is microwave safe and dishwasher safe but cleans very easily with warm soapy water.  The bottom suctions well to smooth surfaces but for extra sticking power I dampen the table surface as well as the underside of the mini mat, it also fits well on my son's OXO highchair tray.  Each of the two eye cavities hold 2 ounces and the mouth cavity holds 4 ounces.  I love the mini mats size and how it can fit in my Ju Ju Be BRB diaper bag in the front mesh pocket or in my Ju Ju Be Fuel Cell making it perfect for eating out.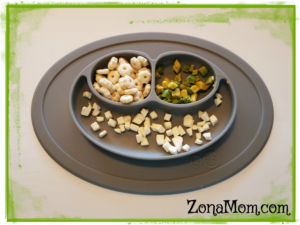 I definitely recommend this product to anyone with an infant or toddler or just looking for a great gift to give to someone with an infant or toddler.  The EzPz Happy Mini Mat has truly made eating more fun for my little guy as well as prep and clean-up more fun for myself.  I may even buy the original EzPz Happy Mat for my myself so that I can portion control my own meals.  I cannot wait to purchase and try out more EzPz's products.  If you are interested in the EzPz mat you can purchase through Amazon here, or at one of the many retailers that do carry them.  Thanks for reading!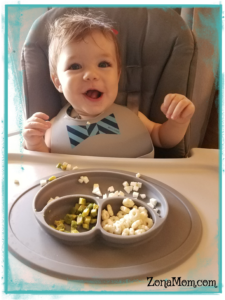 Follow me on Social Media