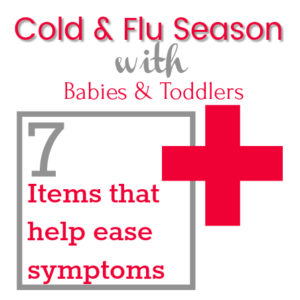 It's that time of year again!  The dreaded cold and flu season is upon us, and it always seems to be hardest on our little ones.  Getting caught off guard and being completely unprepared doesn't make things any easier.  Fortunately, Target has got you covered with EVERYTHING you could possibly need for your baby or toddler's cold/flu.  In fact my 16 month old is currently working through his first, and hopefully only cold this season.  Which is what inspired me to write this post today.
Below are some items that I have purchased at Target for my little guy's cold and they have helped tremendously.  If you are interested in any of these items or want to learn more, you can click on the image and it will take you to the item available on Target.com.
The links in this post contain affiliate links and I will receive a small commission (at no additional cost to you) if you make a purchase after clicking on my link.  Read my full disclosure statement here.
1. Crane Cool Mist Humidifier
This is a nursery staple for us here in Arizona.  The air here is so dry and can seriously mess with our sinuses.  During a cold, adding moisture to the air can help ease coughing and congestion.  This is the same exact humidifier that is in my son's room and it is so quiet.  Sometimes I can't even tell that it is on.
2. Little Remedies Saline Spray
We started using this last year when my son was about 7 months old.  He had a stuffy nose and was struggling with sleep and even nursing.  We tried out this nasal spray and he liked the relief so much that administering this has never been difficult for us to do.  It is just a simple saline and can be used as often as needed and on infants six months old and up.
3. Boogie Wipes
These wipes are the best for little noses.  They are moistened with a gentle saline and soothe irritated skin.  
4. Oilogic Stuffy Nose & Cough Essential Oil Roll-On
I like to use this on myself as well as my children.  It helps soothe cold symptoms and reduces cough.  I use as directed by rolling on chest, back of neck and bottoms of feet.  It also smells fantastic.
5. Oilogic Stuffy Nose & Cough Vapor Bath
This stuff is seriously a-maze-ing!  I just gave my son a bath using this stuff and he came out feeling so much better.  His face has been a drippy, snotty mess all day and now, for the first time, his handsome little face is booger free and he is breathing great.  It seriously makes a HUGE difference.
6. Safety 1st Ear Thermometer
This one is kind of a given, and you probably already have a thermometer.   I just really like and prefer the thermometers that take a temperature from the ear.  This is so much less stressful and you get the results instantly.
7. Vaseline/Petroleum Jelly
If your little one does start to get a chapped or raw nose, rub a little bit of Vaseline on the nose and it helps create a barrier of protection from further chapping.
If you don't already have a Target RedCard or Debit card, you should definitely get one, you save an additional 5% off your purchase anytime you pay with it.  I personally prefer the debit card because it is easy to get signed up with and it just deducts from my banking account shortly after making a purchase at Target or on Target.com.
Also, if you don't have a lot of time to go shopping, you can order items online and select in-store pick-up, or have them shipped, shipping is free on orders over $35.
In conclusion
I hope that you have found these items for baby during cold/flu season helpful.  We as parents hate when our little ones feel terrible and would do anything to make it go away.  I truly like the above products and they absolutely offer my son relief when he doesn't feel well.  If there is a favorite product/item that you use when your kids are sick I would love to hear about it below.  Your comments are always appreciated and I enjoy hearing from you.
Thanks for reading!
April aka ZonaMom
Follow me on Social Media